It's a truth universally acknowledged that when you travel overseas you'll come across a public holiday or two. If you're not prepared, you can find your plans derailed with sights and/or shops closed, public transport schedules changed, places crowded. The positive thing though is that such days often provide an opportunity to learn something deeper about another culture. On this trip, we missed the National Day of Catalonia by one day, but we did get the Day of German Unity on our last day in Germany. It has been observed since the reunification of East and West in 1990.
The public holiday in Bonn meant shops were closed (so we've come home with some extra Euros – ha!), but restaurants and museums were open, which was the important thing.
The Beethoven Trail starts at his birth-house where he lived until he was three. Beethoven lived in an extraordinary number of houses, including, apparently, 11 in the last 10 years of his life, but very few are still standing. The Beethoven family lived in only a few rooms of the house we saw – the back-house – but the museum also uses rooms in the front-house, plus a building next door for its digital archive.
Once again we used the audioguide and found it good. Many of the commentaries were accompanied by appropriate excerpts of his pieces, including several he wrote in his childhood and teens. The museum has portraits, letters, original scores, and objects such as his own musical instruments, his desk, and small personal items. We learnt about some of the women in his life, and also about the despair his deafness caused him. We hadn't realised that it started when he was 28. The audioguide rendered excerpts of his 5th and 9th Symphonies, as he would have heard them. It was shocking, and yet showed the measure of his genius that he could "hear" music so well to be able to still compose such wonderful pieces.
Sue was interested in some of the stories about how the museum got its collections. There were some big Beethoven collectors who donated significant collections, including one man who donated about half the letters the museum holds. There are stories about people selling items, which were later bought back by that same family and donated. (This seems to happen more often than you would think in museums). Some pieces came via musician Johannes Brahms, who was a big Beethoven collector.
The trail had around 12 spots throughout the town, and we got to most. In many cases, the "spot" was simply a plaque because the building itself had gone, but we enjoyed the walk for taking us around town. It was pretty pleasant once the day warmed up, and we had the fun of contending with rope barriers throughout the altstadt marking out the holiday fun-run course. We crisscrossed runners several times during our walk.
Other town sights
During our wanderings we saw much of interest, such as the gorgeous old Rathaus, the Schloss which is now a University, the pretty Hofgarten, the memorial to the 1933 Nazi book burning that occurred throughout Germany in university towns, and Stolperstein, which are little bronze plaques embedded in the paving to commemorate victims of the Holocaust. We've seen them in other German towns too.
We enjoyed being out and about with other Bonn residents – on the streets, in the cafes, at the parks – on what turned out to be a mild autumn day. Another appealing town.
Essen und trinken, German-style
We've mentioned food and restaurants before, but haven't talked much about the culture. Sue had forgotten what a challenge German menus can be. It's interesting how relatively easy it is to understand menus in Spain, France, Italy and Greece, because their cuisines have travelled the world but, besides foods like schnitzel, sauerkraut, wurst, and Sacher torte, German food is not so well-known to us. Sue quickly learned that pork is schweinefleisch, that potatoes are kartoffel (so roast potatoes are bratkartoffeln), but it was hard to remember all the different cuts of meat, the vegetables, etc. Pfifferlinge anyone?
Anyhow, the recurring food items we found were pork, cabbage, cherries, plums, regional versions of noodles and dumplings, and of course all sorts of bread.
Another interesting thing was that "open wine", that is, wine by the glass, tends to be sold in either .2l or .25l sizes and will often be served in a little jug that you then pour into your glass. Water is never served automatically in Spain or Germany but it does tend to be in France.
And then there's paying. You ask for the bill, and the waiter will come with a purse or pouch, tell you the amount, and then you say what you will pay. That is, you don't leave a tip on the table but if the bill is €26, you might say "I'll pay €30". Apologies to you well-seasoned German travellers, but it's been a long time since we've been in Germany, and so we had to relearn our dining etiquette!
Germany and World War II
It's been over three decades since we were last in Germany, and we felt that Germany has changed from guilt about the war to putting it into historical context, to recognising and accepting it rather than trying to ignore it, which is how it seemed in 1980. There are now references and memorials, exhibitions and recognition of it everywhere. We saw several exhibitions or memorials relating to 1933, the year Hitler became Chancellor of Germany. There was even an exhibition in the Alexanderplatz Railway Station, Berlin, titled "1933 From Red to Brown" chronicling the railway's relationship to the war.  In fact, it is described as "an exhibition about the dark chapter of BVG history" – and, further, they say that "the history of this disenfranchisement was not told until today". We were very aware, nearly everywhere we went, of buildings that had been damaged or destroyed by bombing, but it was always presented in a matter-of-fact way, with a focus on reconstruction plans or decisions.
As for the post-war division of Germany, we'd love to have spoken to some East Germans about what the reunification has meant to them. We would look at middle-aged people in particular and wonder about their experiences.
Home
Anyhow, we left Bonn at 5pm on a train that went through to Dusseldorf airport. How cool was that after so many trips that had involved multiple changes? The trip home went smoothly – in fact, very smoothly for one stage of the trip. We were upgraded to Business Class for the Dusseldorf- Dubai leg. It's a long time since we've travelled Business Class and we enjoyed it thoroughly.
Sue's pontification
Sue decided that her travel philosophy is: if you consider travel an adventure, you will not be disappointed. In other words, when museums are closed, the weather doesn't go to plan, or rail strikes throw your schedule, you can always find something to do. And usually that unplanned, new something will be every bit as interesting as what you had originally planned. In a way, this applies to life too, doesn't it? (Most of the time, anyhow).
Home
And so adios, au revoir and auf wiedersehen from us. We've enjoyed putting this blog together, and loved knowing that family and friends were enjoying it too, though we completely understand if you just looked at the images! We did go on a bit at times! Thankyou for your comments and private emails. Your suggestions, advice, and support were much appreciated.
Three-words
LEN: Civic art, Comfortable
SUE: So long, farewell
… and the stills slide-show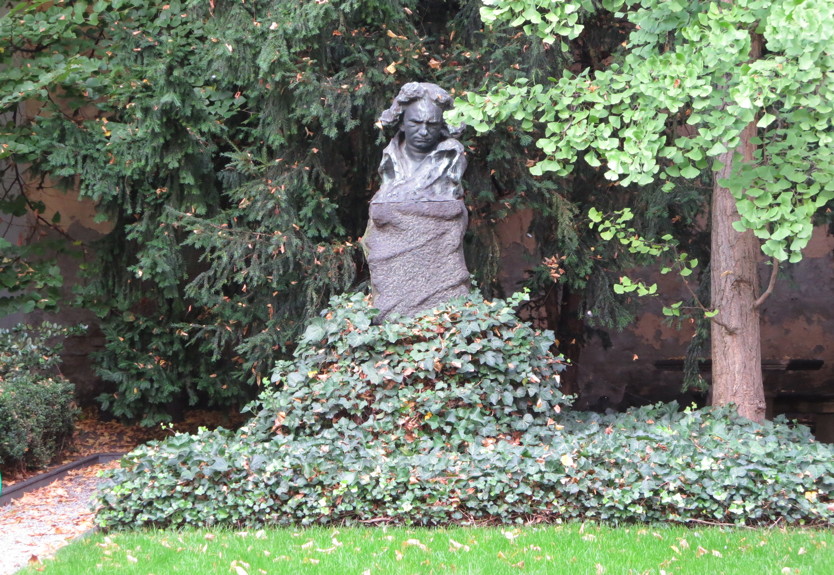 Beethoven, 1905, by Naoum Aronson, Beethoven House, Bonn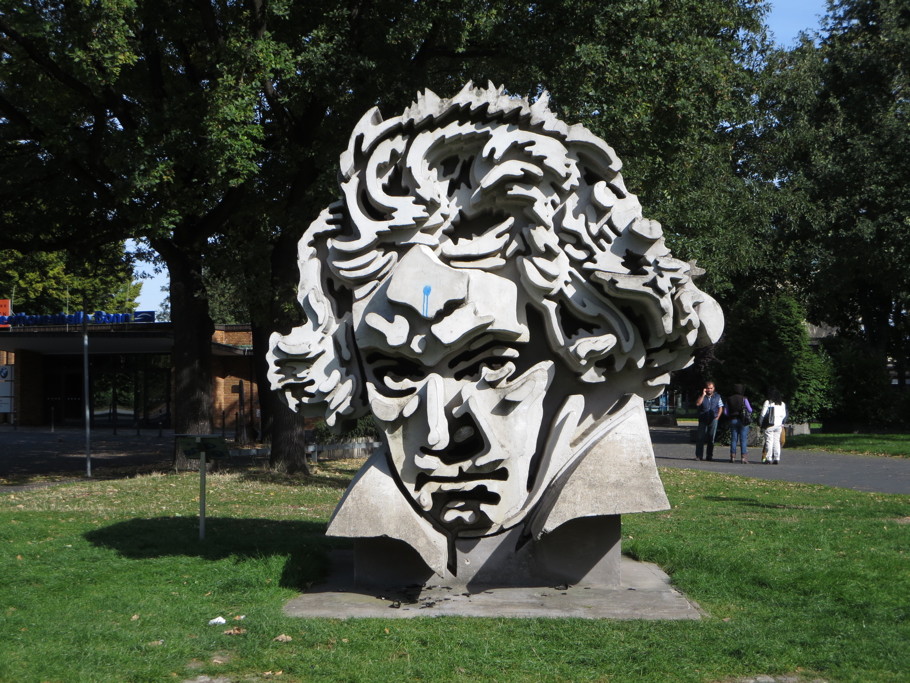 Beethon, by Klaus Kammerichs, outside Beethovenhalle, Bonn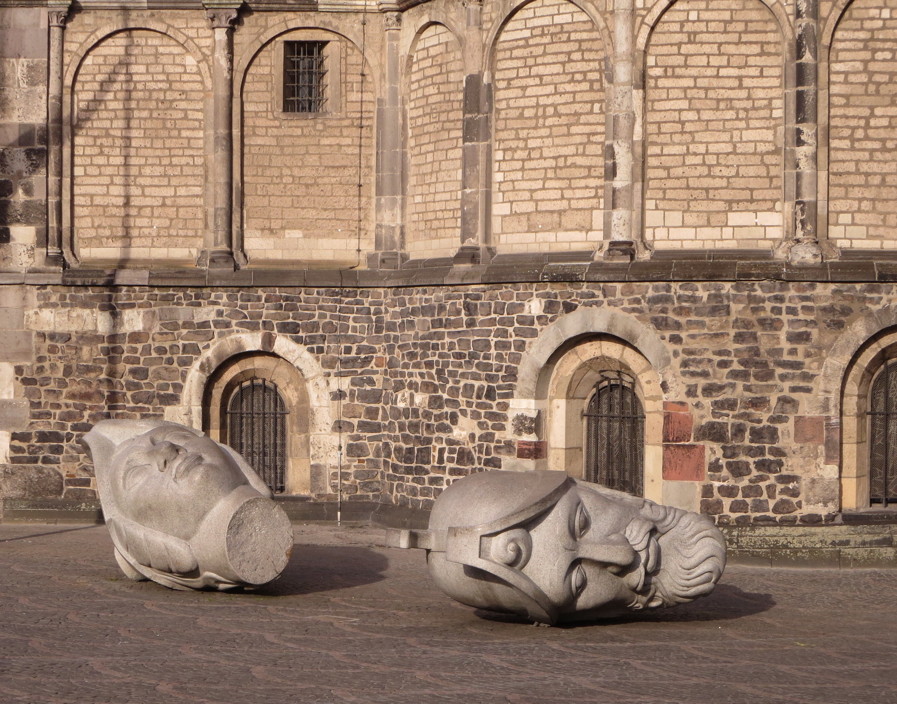 Sculpture of beheaded Saints Cassius & Florentius, Bonn Minster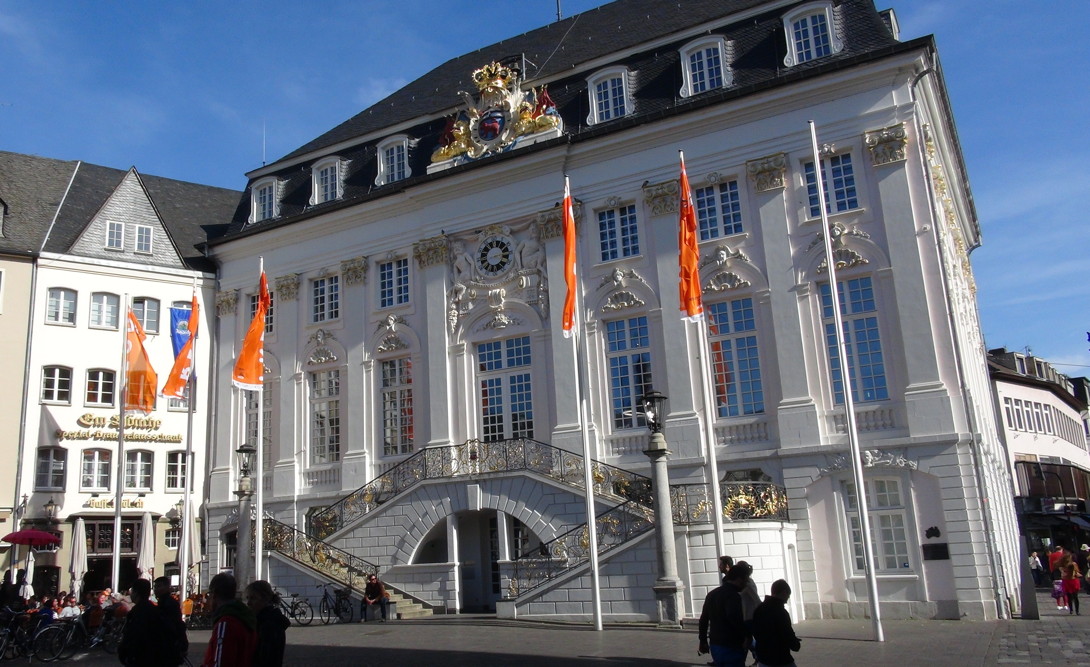 Rathaus, Bonn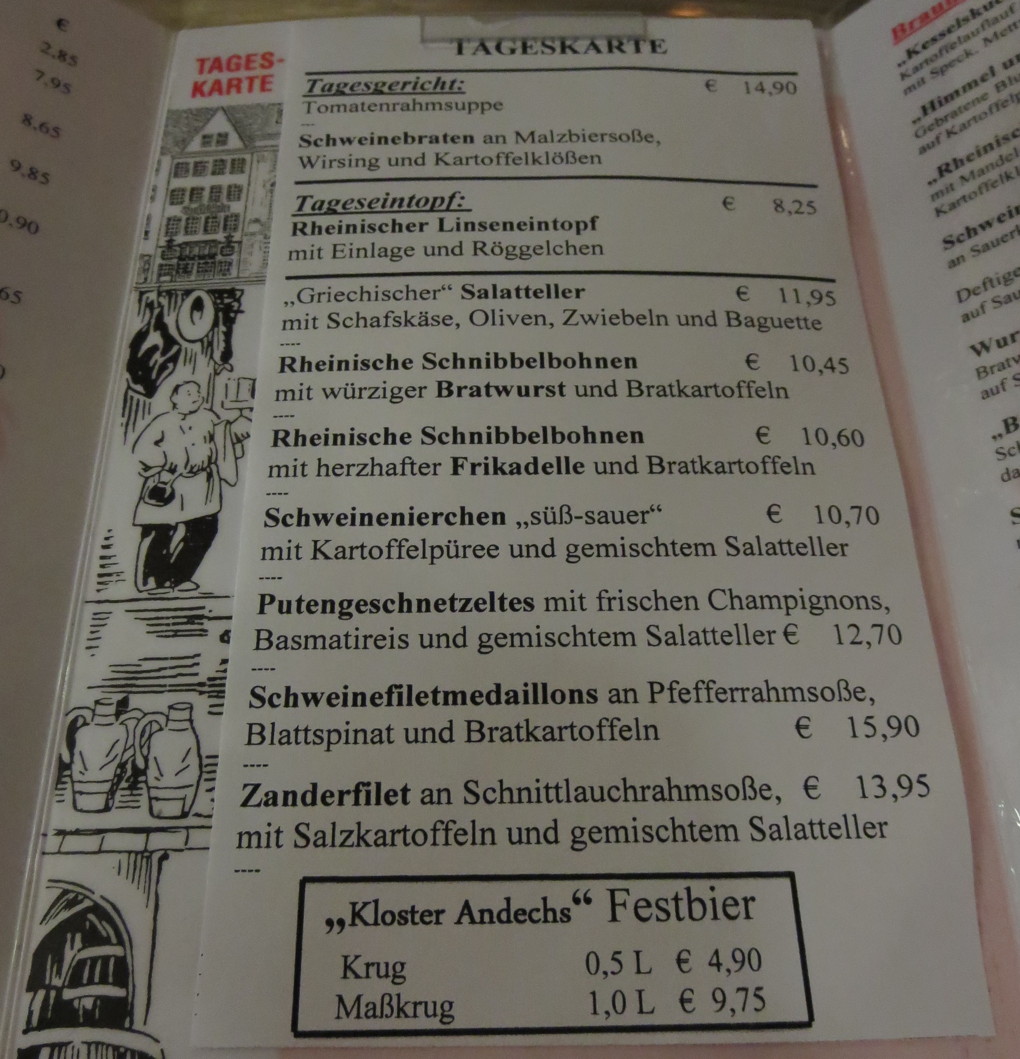 Daily specials, Em Höttche, Bonn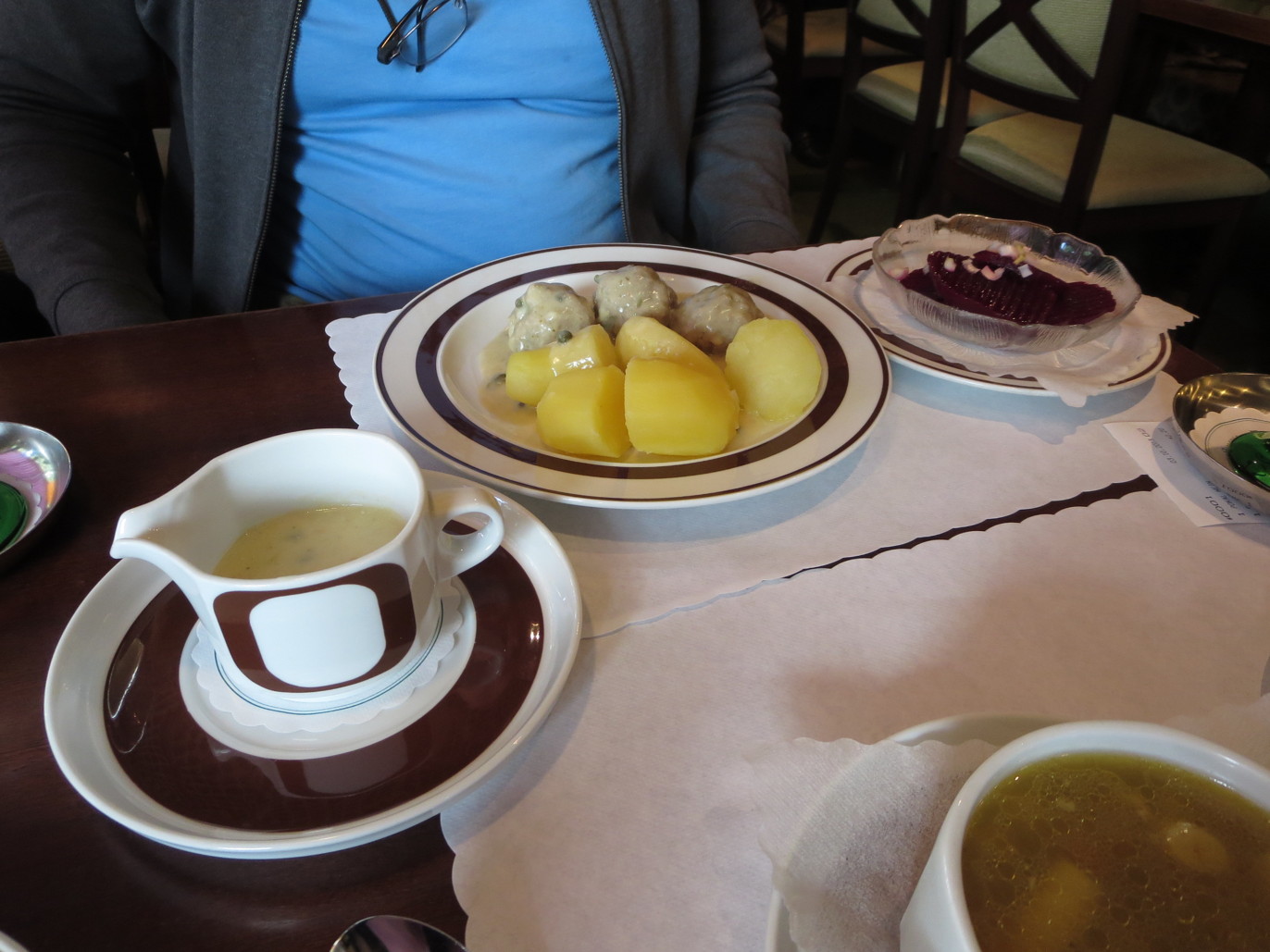 Len's Köningsberger Klopse, Konditerei Kleimann, Bonn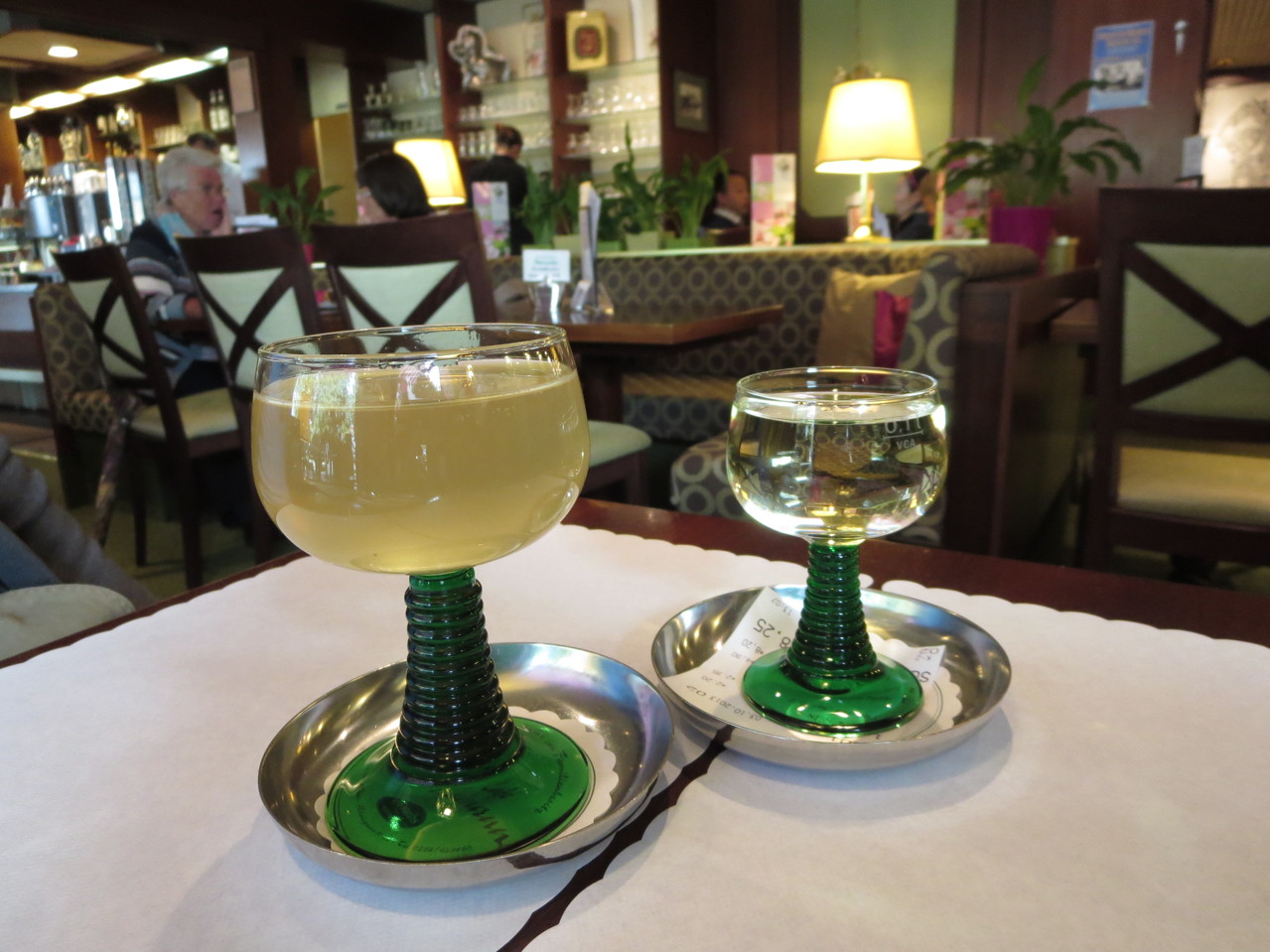 Len's Federweisse and Sue's (.1l) white wine, Konditerei Kleimann, Bonn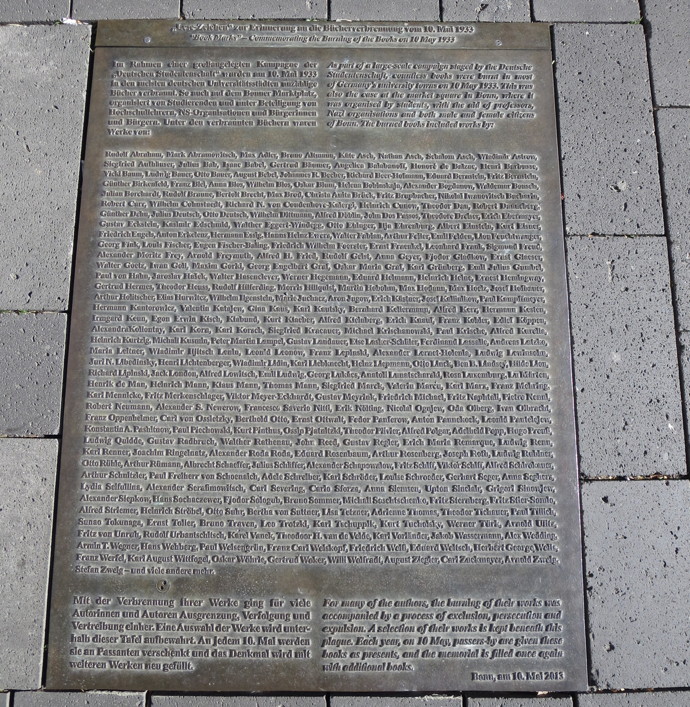 1933 Book Burning Memorial outside Rathaus, Bonn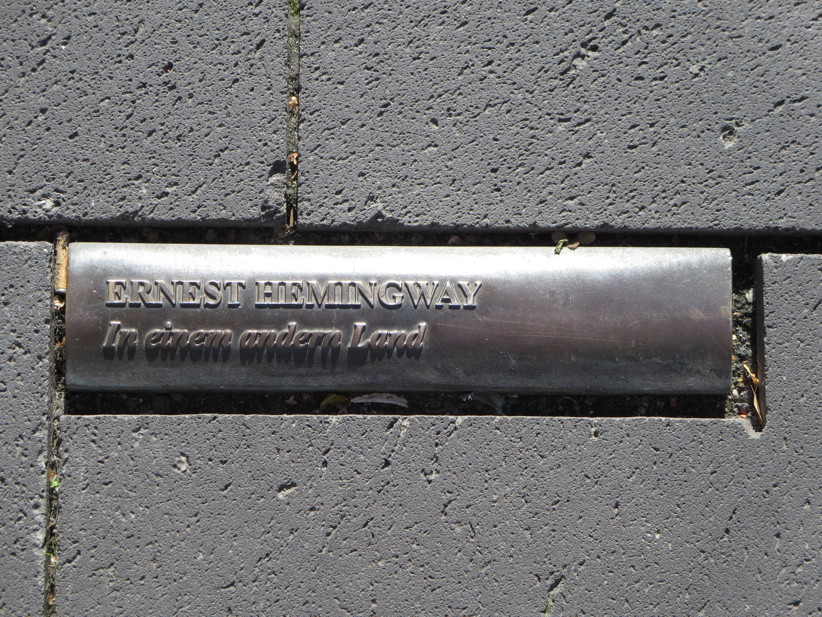 One of the embedded plaques, part of the 1933 Book Burning Memorial, Bonn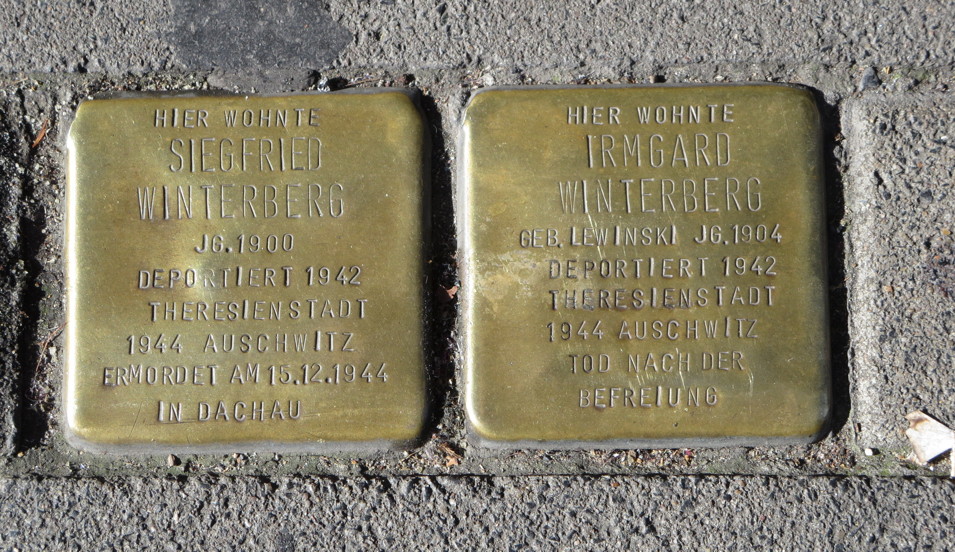 Stolperstein, Bonn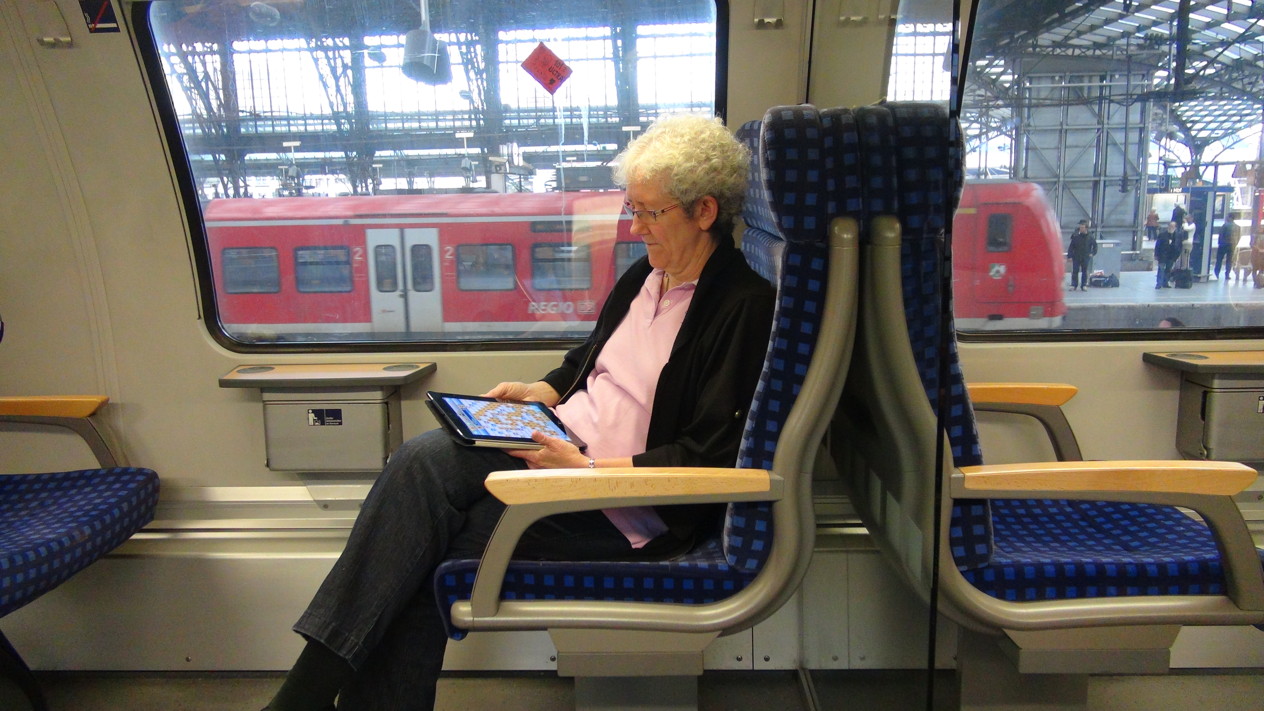 Sue, en route to Dusseldorf