Another warm day in Seville, though we think the temperature only got to the mid 30°s C . Today was a free day, Intrepid-tour-style. That means the tour leader gives you some ideas of what to see or do, and you make your own choices. For most of us that was to visit the Alcazar and the Cathedral. Len and I arranged to meet Sarah and Lynne, two other tour members, at 9 to "do" Alcázar together. So, it was breakfast up the road and then off to the Alcázar.
Alcázar
The Alcázar, Cyra told us, often gets short shrift from tourists because they've "done" Alhambra but, she said, Alcázar is as good if not better and recommended we didn't miss it. She was right – not that we'd planned to miss it anyhow – because while it has a lot of similarities to Alhambra there are differences, an important one being that Alcázar is still the royal residence of the Spanish monarchy (and is apparently the oldest European royal palace still in use). Its origins are in the 10th century Islamic quarter, though I think the earliest element we saw was an old stone wall dating the 12th century.
It is not as big as Alhambra – doesn't, for example, have the fortress or the separate summer palace – but it has huge grounds as well as significant palace buildings. There's way too much to talk about so, as is our want, we'll just mention some highlights:
Patio de la donacellas (Patio of the maidens) is a gorgeous 14th century courtyard, with a sunken garden and a central pond running the length of the courtyard. It is beautiful, peaceful, delicate.
Islamic decoration. Much of the decoration is similar to that at the Alhambra, but there were differences. There seemed to be greater variety of tilework in an amazing range of geometric patterns and arrangements, interlacing, interconnecting, some just side-by-side. There was also some interesting wood work – on doors as well as ceilings – which we enjoyed. The overall effect – colourful geometric tiles abutting mostly duo-chromatic (is that a word?), highly intricate low-relief stucco work – could be over the top but somehow it isn't, and is a blessed relief from the cherubs, crucifixions and annunciations of cathedrals.
Royal rooms. When the royal family is away, it is possible to tour for a few Euro more, the public areas of the palace (like we can do of Government House in Canberra). We did that and found it interesting though the manner was odd. We – Len, Lynne and I – were given our audio tour thingamajigs which we listened to as we walked through the rooms accompanied by a security guard who'd gesture things like smoking a cigarette as in, "are you up to the smoking room yet, if so, this way"! It was an experience!
Claims to be the third largest in the world – after St Peter's (Rome) and St Paul's Cathedral (London) – though apparently it's a matter of interpretation. Isn't it always? If you take just the building, Il Duomo in Milan claims the title, but if you include the complex, then Seville wins! Guess how Sevillians define cathedrals!
It was, shall we say, another cathedral, but the highlight was the La Giralda Tower. Seville Cathedral was, like several churches in Spain, originally a mosque. After Seville was taken by the Christians (1248), the mosque was converted to a church. So, now the tower's first two-thirds is a former minaret from the Almohad period of Seville, and the upper third containing the bells is in Spanish Renaissance architecture. The interesting thing about the tower from a tourist point of view is that you climb its 36 odd floors via a ramp rather than the usual stairs. THAT was easy to take. We understand the ramp was to enable horses to access it! The tower was registered in 1987 as a World Heritage Site by UNESCO.
More tapas
Once again in the evening we decided to join Cyra at her recommended eating place, this time the tapas bar, Eslava. It has won awards in recent years in tapas competitions for some of its tapa creations, including Slow-cooked egg served on boletus cake with caramelized wine reduction. As I think I've said before, meals aren't included in the tour but the leader will usually recommend places and in Cyra's case so far, she has come along, helped with the ordering and sorting out who pays what in the end. She is magnificent. The tapas we had at Eslava were all new to us except the pig cheeks. They included a couple of vegetarian ones, a beef in blue cheese sauce (I didn't have that one), and a cod one. This was the first night a few – just three of our group – opted out, two because they had booked for a flamenco dinner show, and the other because she wanted a change of food. She said she had a wonderful spicy pasta at the bar she found. Fair enough!
Three-words
LEN: New black sandals
SUE: Verdelho, Blisters, Geometry
… and the still image slide-show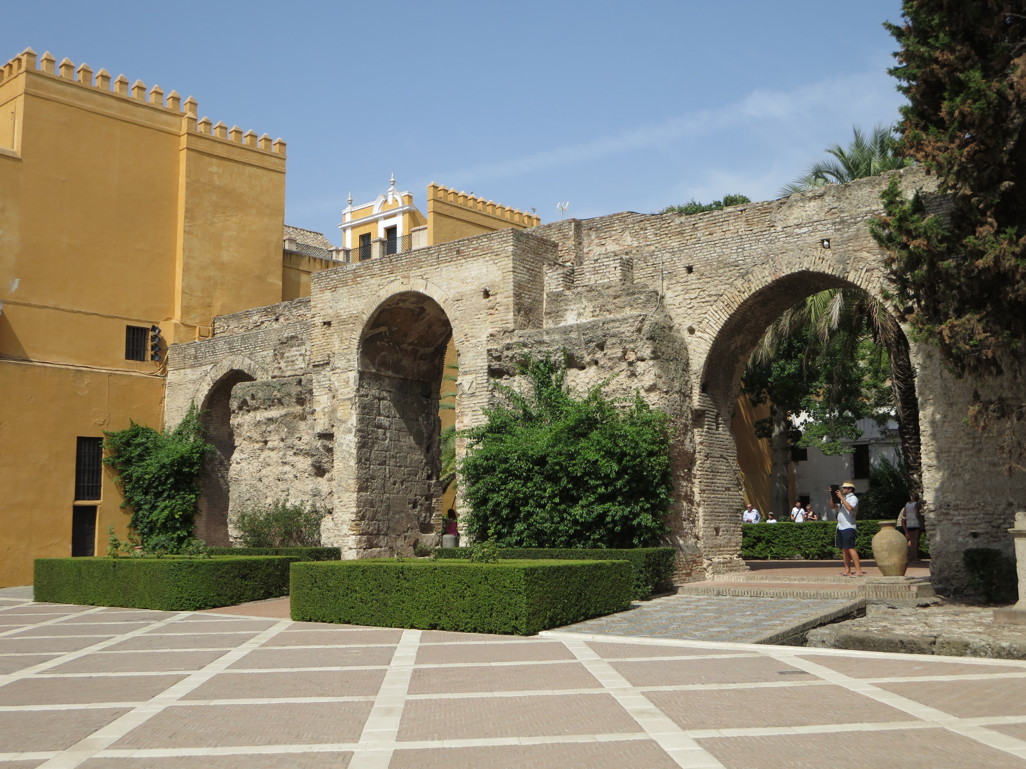 Twelfth century wall, Alcazar, Sevilla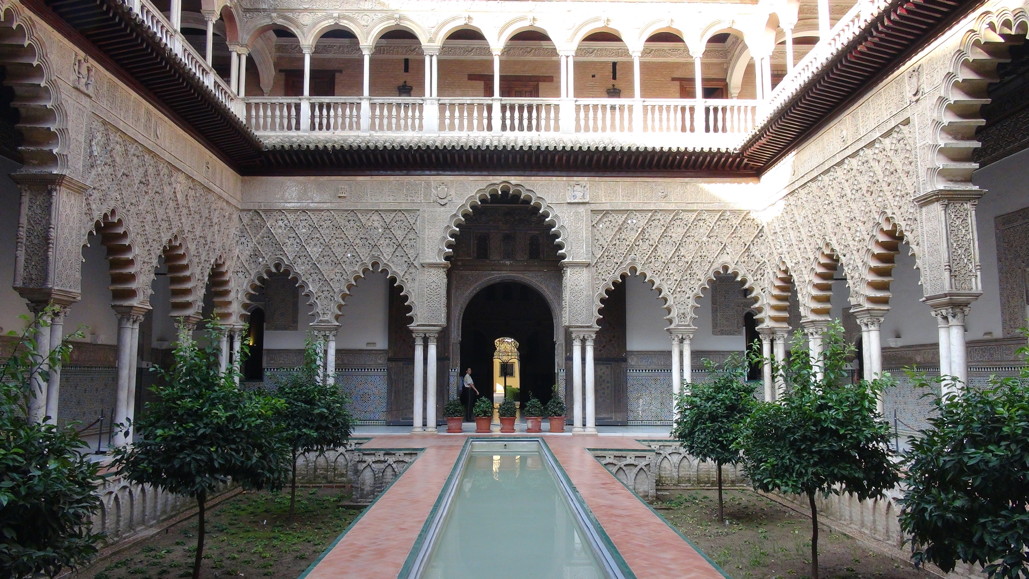 Patio de la donacellas, Alcazar, Sevilla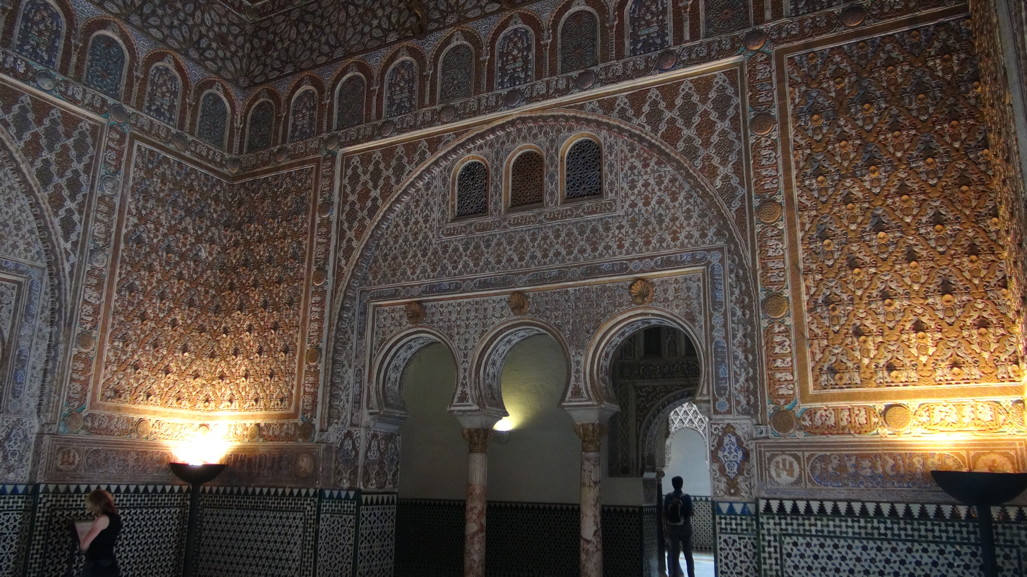 Typical decorated room, Alcazar, Sevilla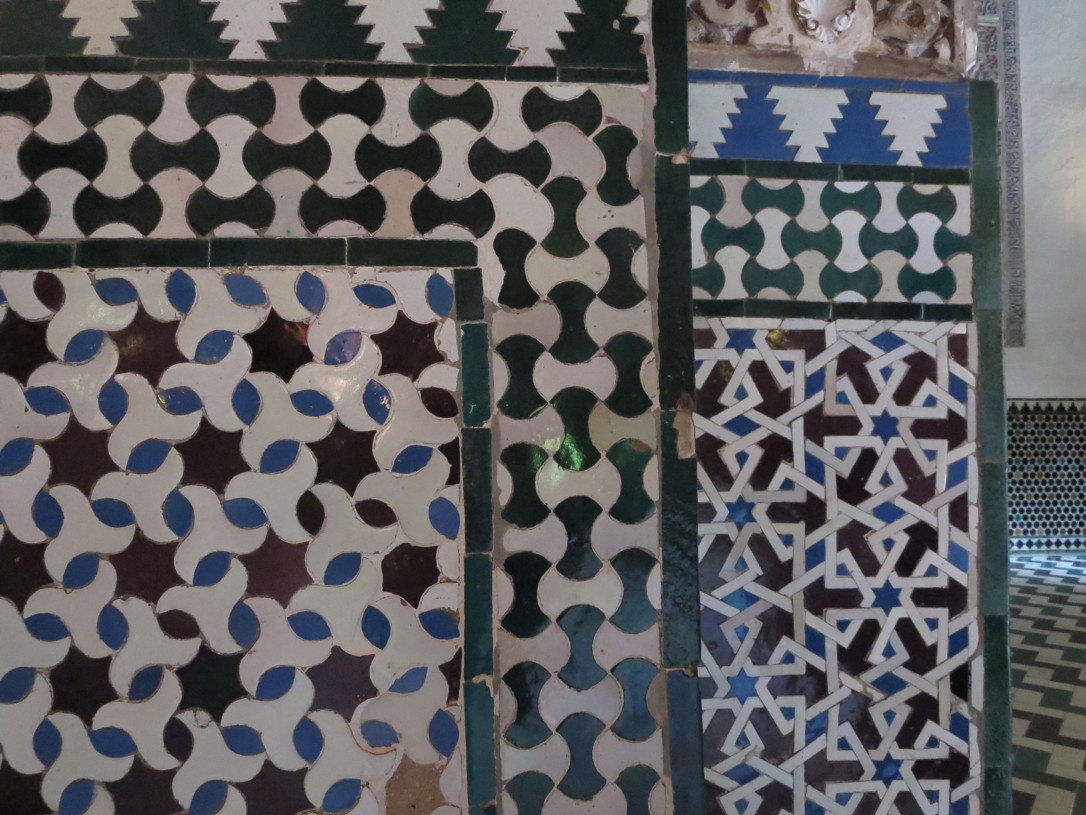 Tilework example, Alcazar, Sevilla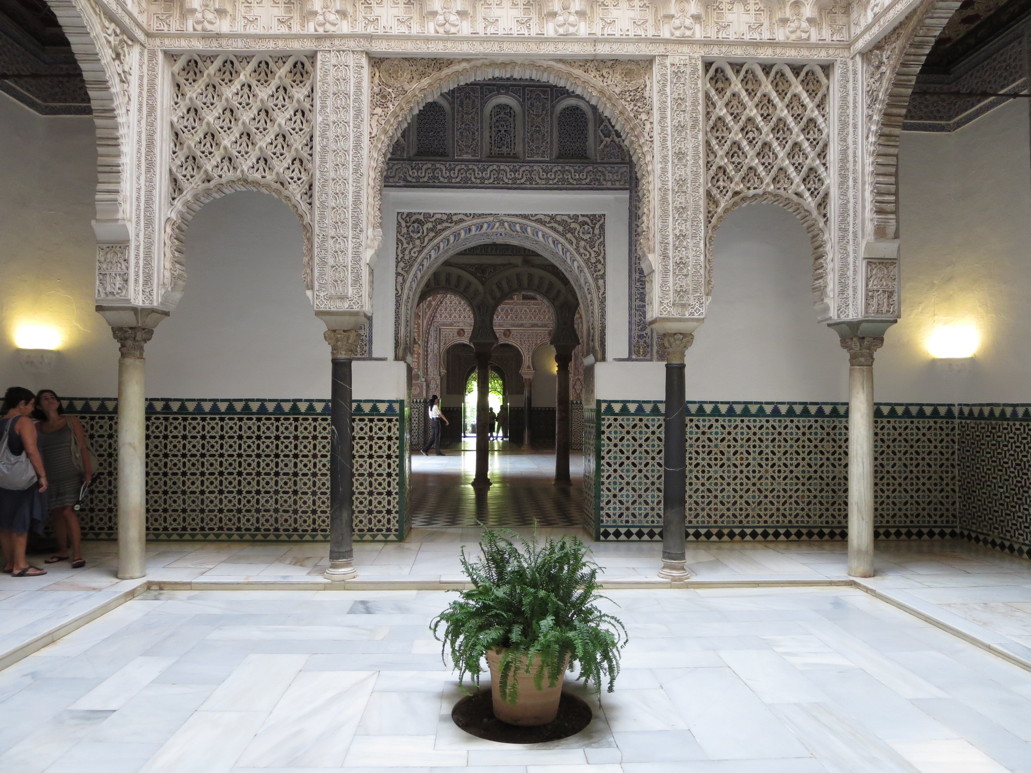 Looking through multiple rooms, Alcazar, Sevilla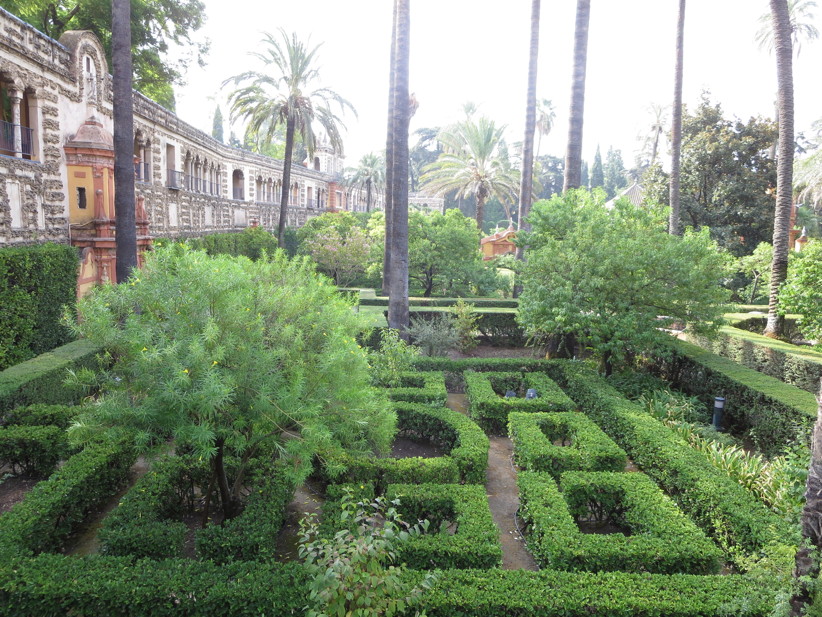 Garden near Mercury fountain, Alcazar, Sevilla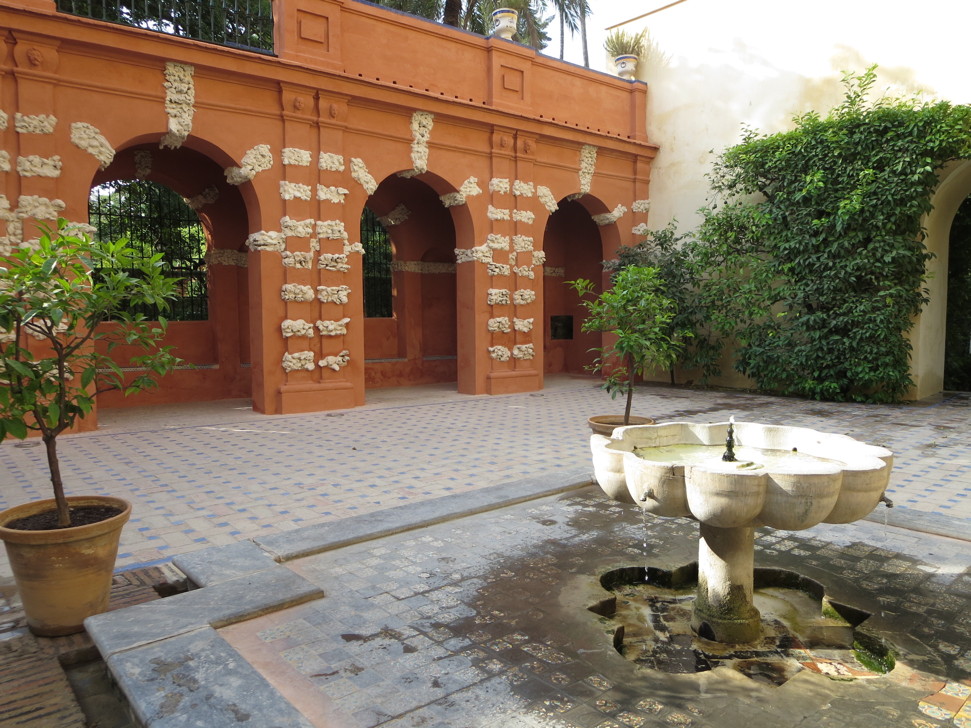 Within Alcazar, Sevilla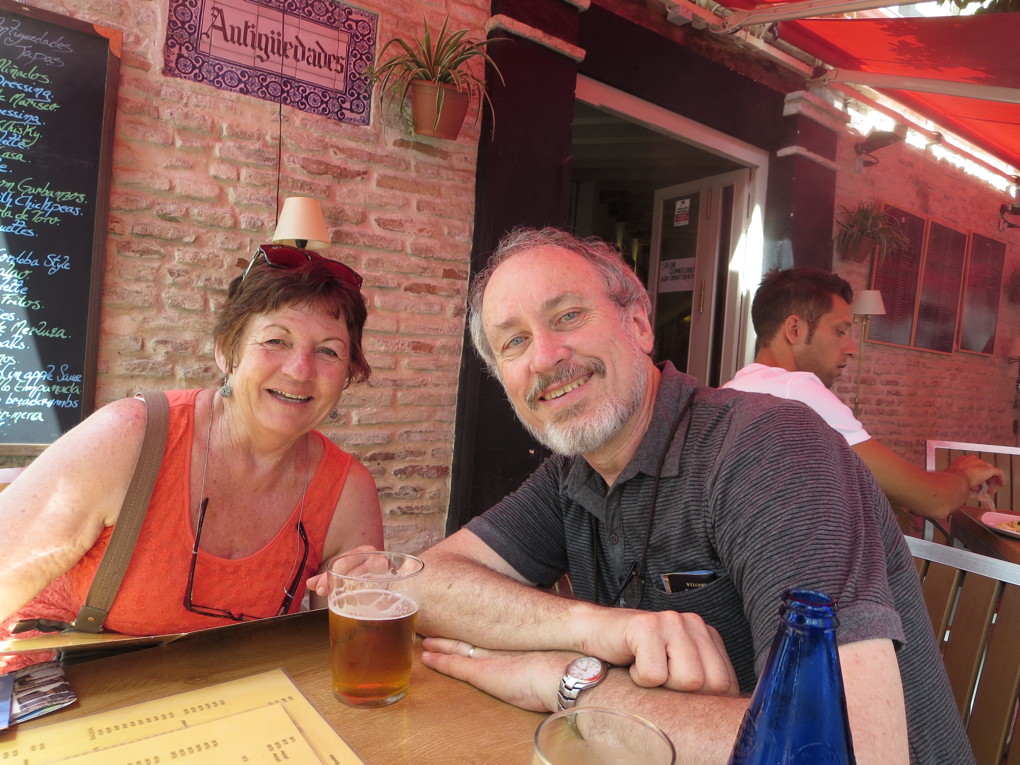 Lunching, Sevilla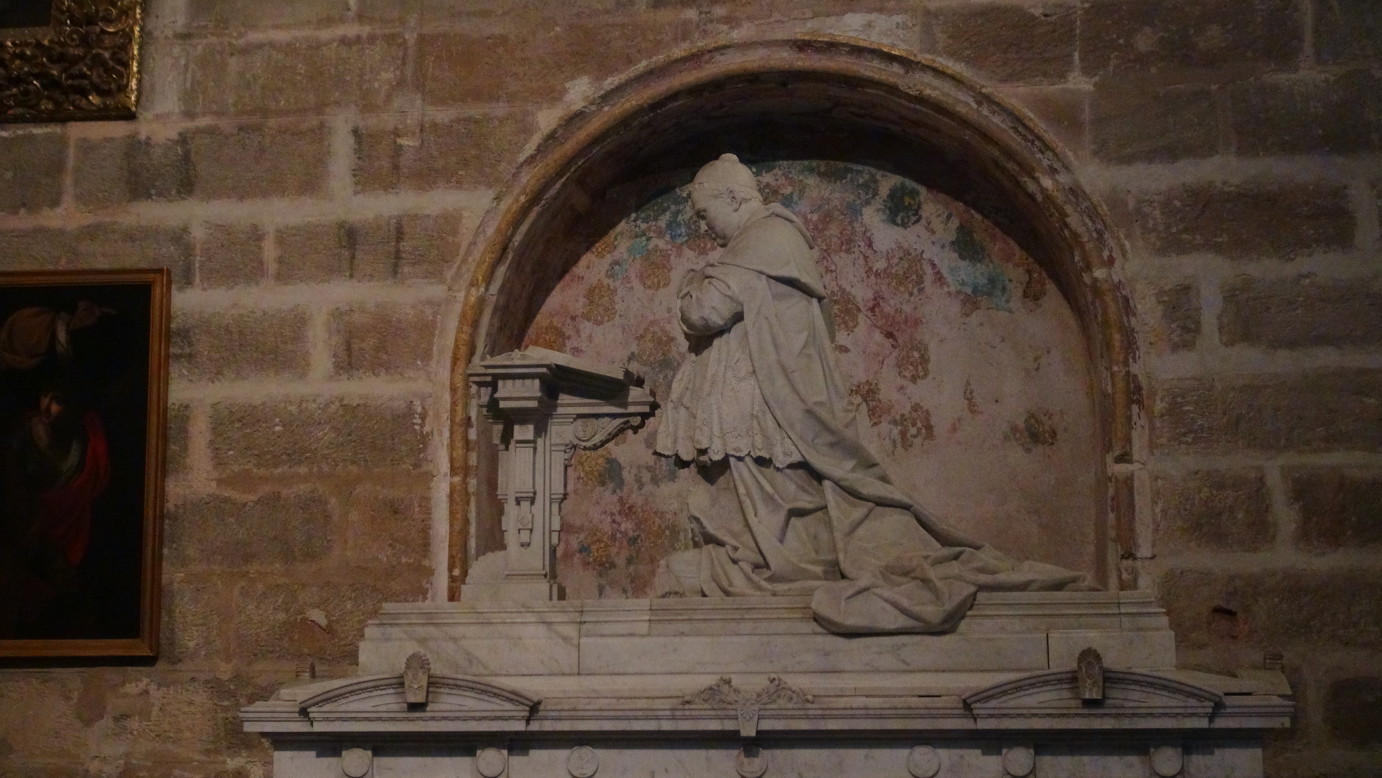 Small wall statue within Catedral, Sevilla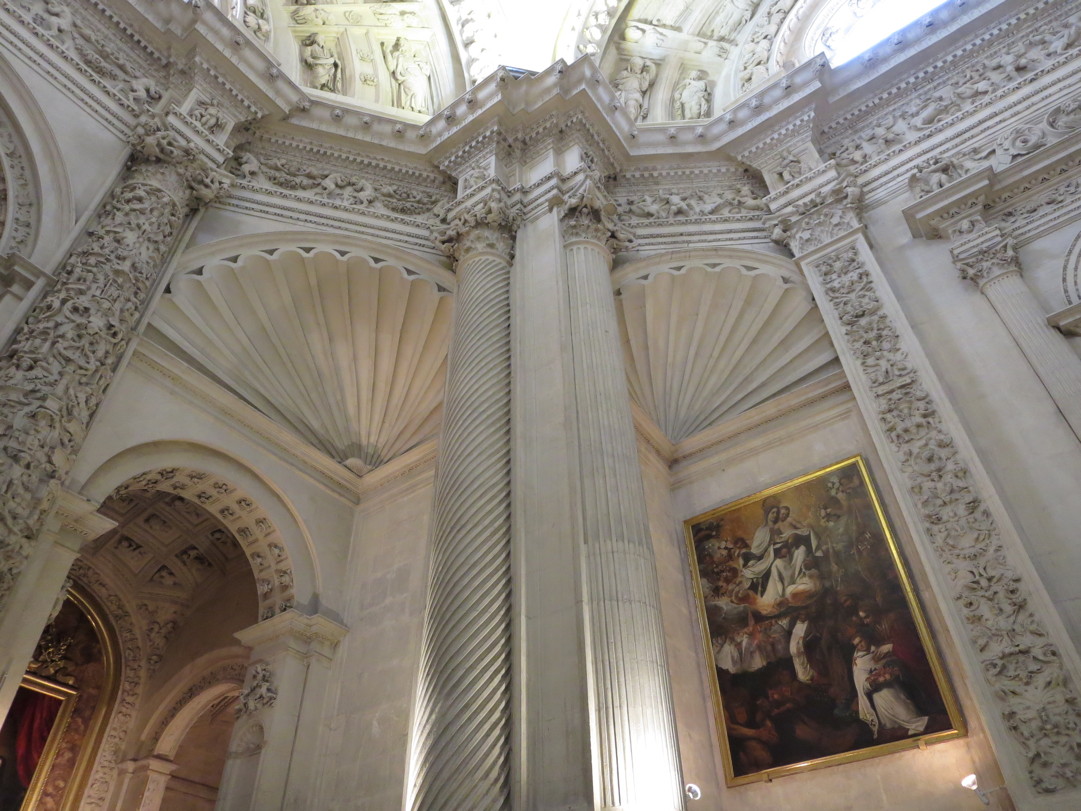 Within the main Sacristy, Catedral, Sevilla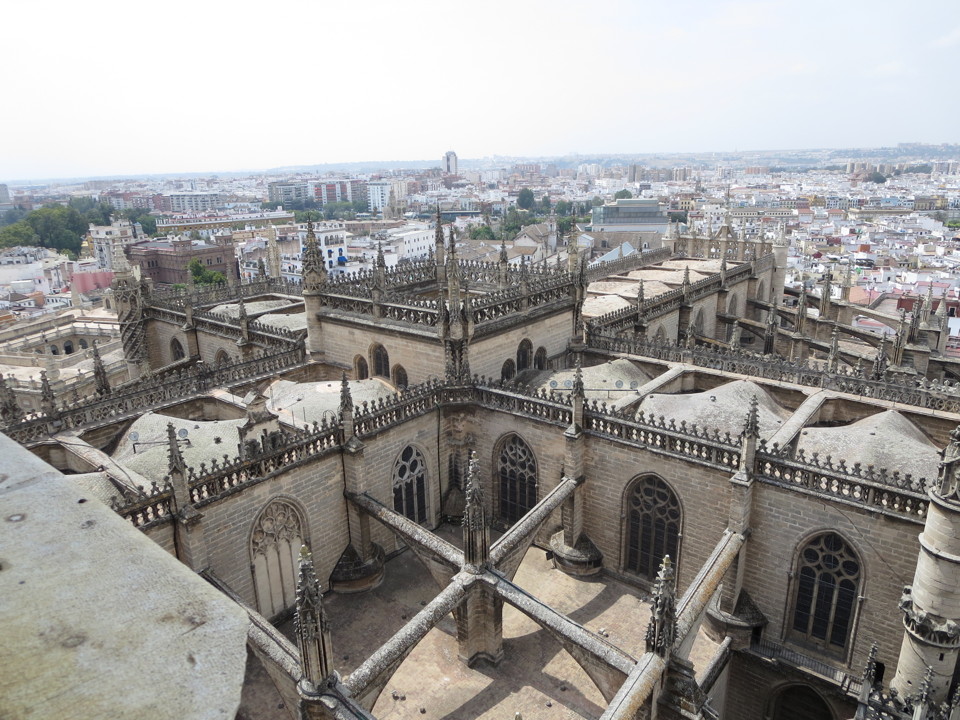 View from Giralda (lizard) tower, Catedral, Sevilla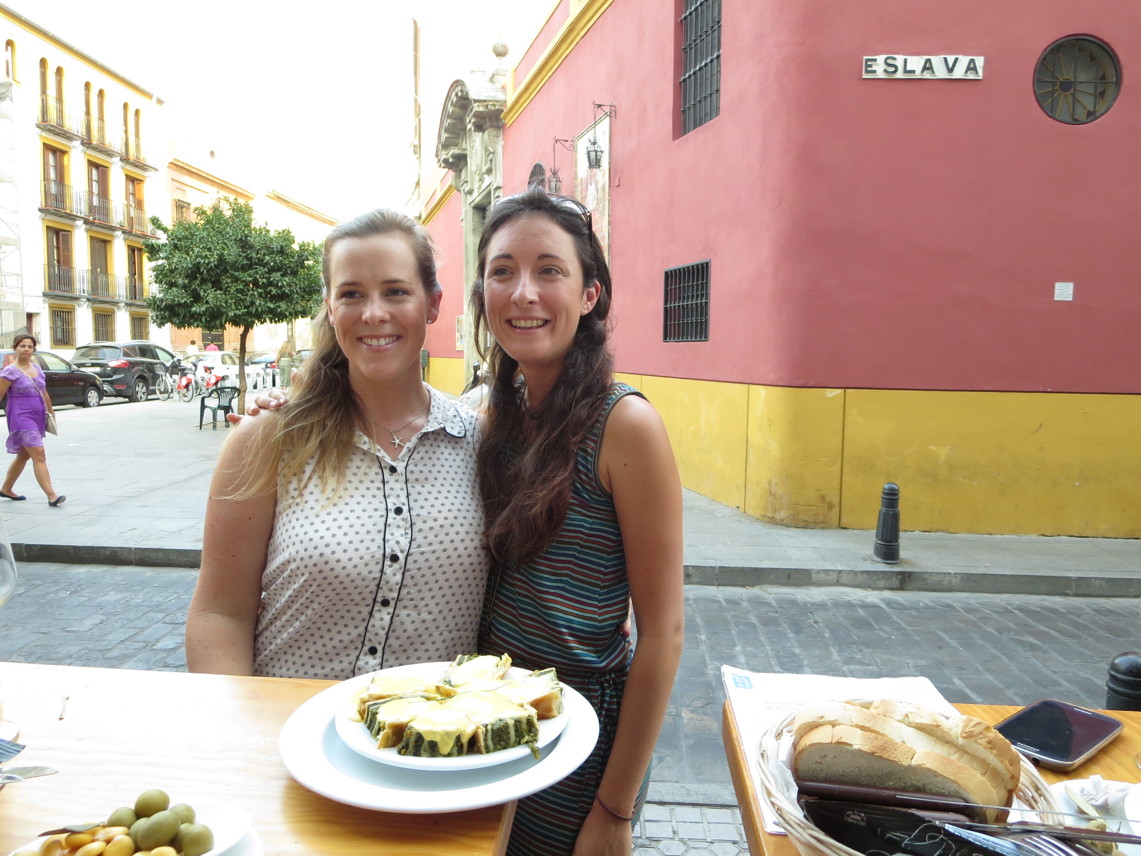 Eating tapas for dinner, Eslava, Sevilla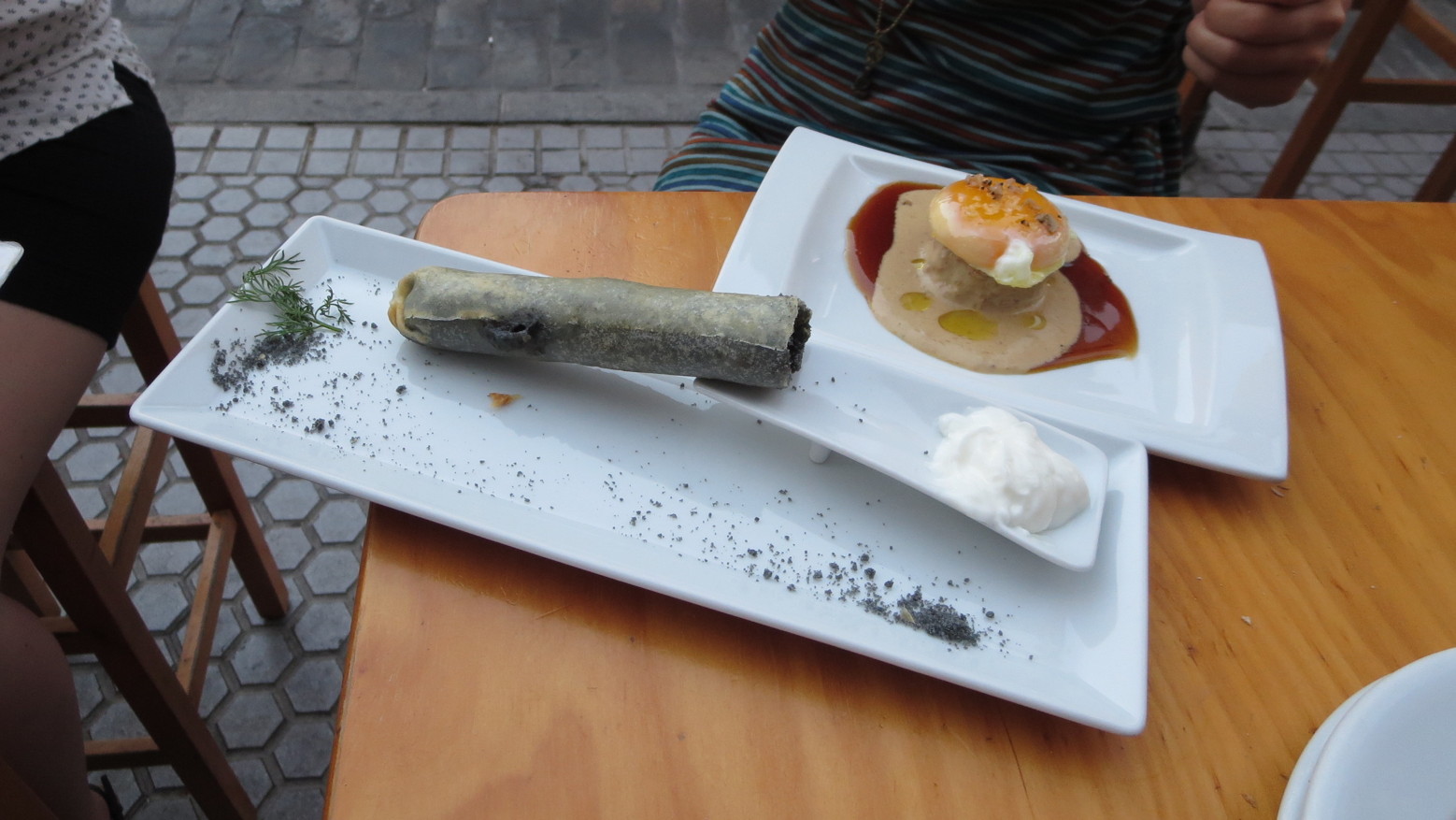 Two award winning specialty tapas, Eslava, Sevilla