When we were planning our route back to Dusseldorf from where we were to fly home, we decided to stage through Mainz for one main reason, the Rhine – and so we took a ferry up the Rhine on the second last day of our holiday. We could have gone all the way to Bonn, where we were staying our last night, but that would have taken around 9 hours, so we decided to go as far as Koblenz, a 5-hour ride that took us through the so-called Romantic Rhine which is a UNESCO World Heritage Site. And the trip was covered by our Eurail Pass. Win!
The UNESCO section of the Romantic Rhine is the upper half of the Middle Rhine, and goes from Bingen/Rüdesheim (KM 529) in the south to Koblenz (KM 590) in the north. We had boarded in Mainz which is KM 500. We were lucky, given the weather we'd been having, to have a lovely clear day for it, though it was very chilly outside on deck. The ferry was set up with tables, complete with centre-cloths and flowers, and there was table service throughout which we used for lunch. Commentary was provided about the sights as we went along – in German, English and Japanese.
We loved the trip – for the sights, and for the rest it gave our feet! The sights included castles (of course) many dating back to 12-14th century, vineyards and other farming scenes, pretty river-bordering towns, and the river itself. You'll see a selection of what we saw in the slideshow – our cameras did rather run amok.
What more can we say, except give histories of each castle we saw … but we won't do that now. We were told though about each castle, its age, and whether it was original (all or in part). Sue was also delighted to pass through the town of Bingen, home of Hildegard von Bingen, and Len to pass through the town of Rhens where his tour bus broke down in the mid 70s and they were forced (poor them!) to spend 4 hours in a little Rhine village.
Note: Brief but clear info on the castles in this section of the Rhine can be found at Loreley Info.
Koblenz
We got to Koblenz, where the Mösel joins the Rhine, soon after 2pm, and had a very pleasant 2km cobble-stone-free, level ground walk to the station, three-quarters of it along the Rhine. We passed some classy residences, and realised we'd hardly seen anything like them during our travels as we'd been focussing on inner cities where hotels and old apartment blocks are more the go.
Bonn
It was mid-afternoon by the time we got to Bonn but it appealed immediately as another lovely walkable city. As we walked into the centre, looking for the Tourist Office, we passed a sign on what was the town's Beethoven trail because Bonn, if you weren't aware, is where Beethoven was born and lived the first 22 years of his life. He left Bonn then for Vienna where he lived the rest of his life. We knew what we'd be doing on our last day in Germany.
Anyhow, we found the tourist office, visited the Dom, and wandered around the town a little getting our bearings. Then it was time for dinner, and we went to the historic Gasthaus Em Höttche which has been operating since 1389, though it was rebuilt after being bombed in WWII. Their menu was extensive, but in the end Sue chose pork fillet with pepper sauce, roasted potatoes and spinach, and Len a Leberknödelsuppe followed by Kassler. We shared an Apfelflammekuchen for dessert.
Three-words
SUE: Relaxing, Pretty, Peaceful
LEN: River, Castles, Beethoven
… and the stills slide-show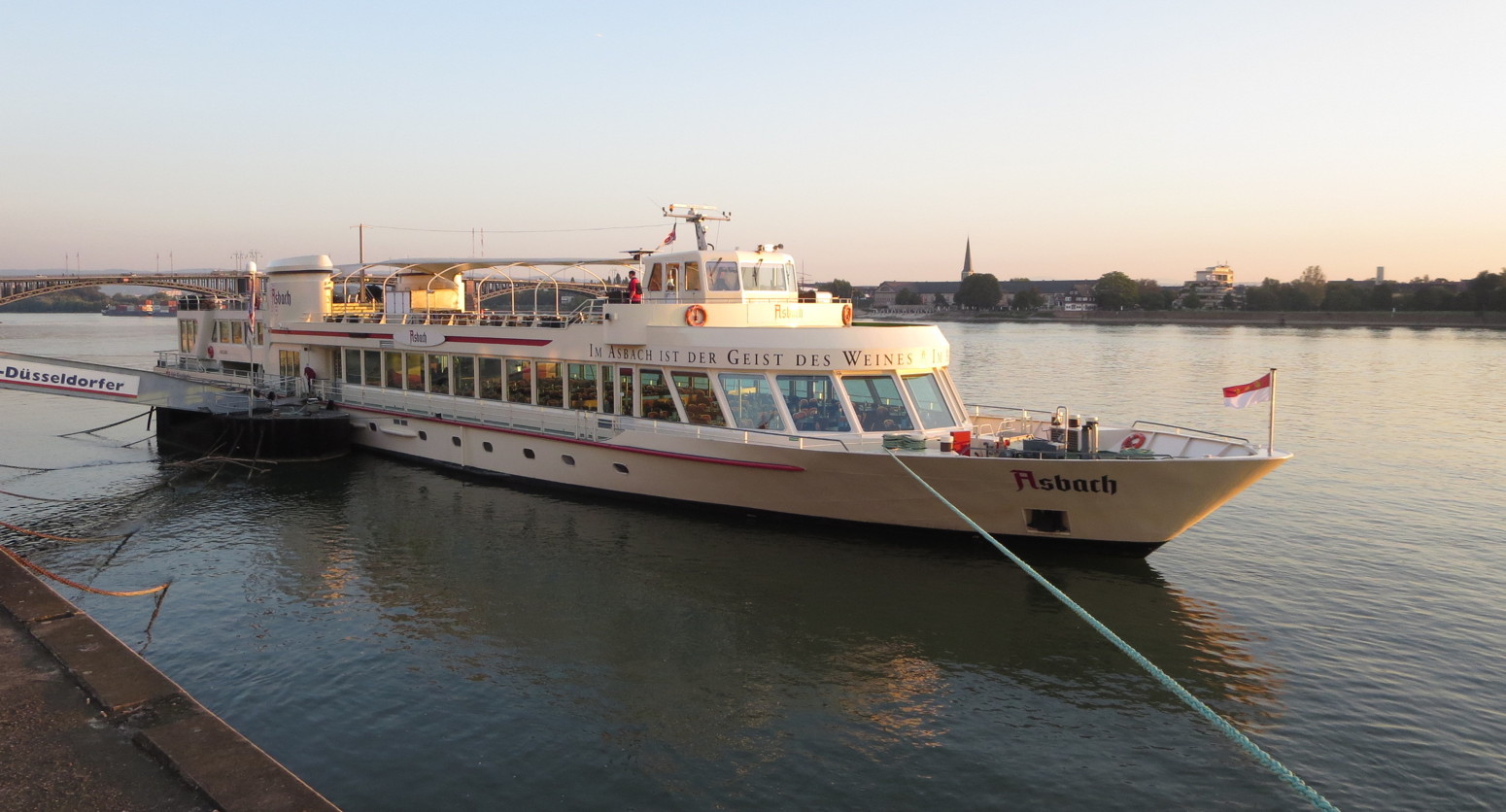 Köln-Düsseldorfer Rhine River ferry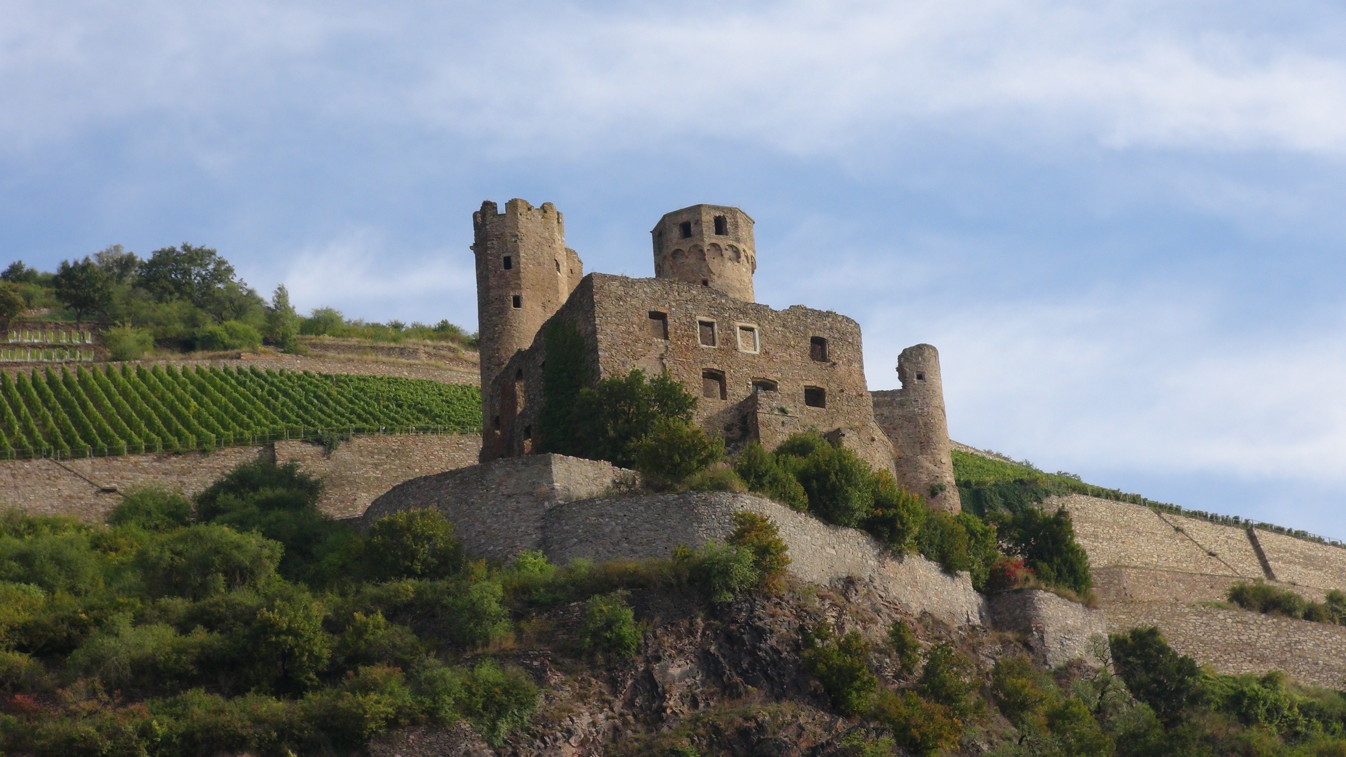 Ehrenfels Castle, 13thC, Rudesheim, on the Rhine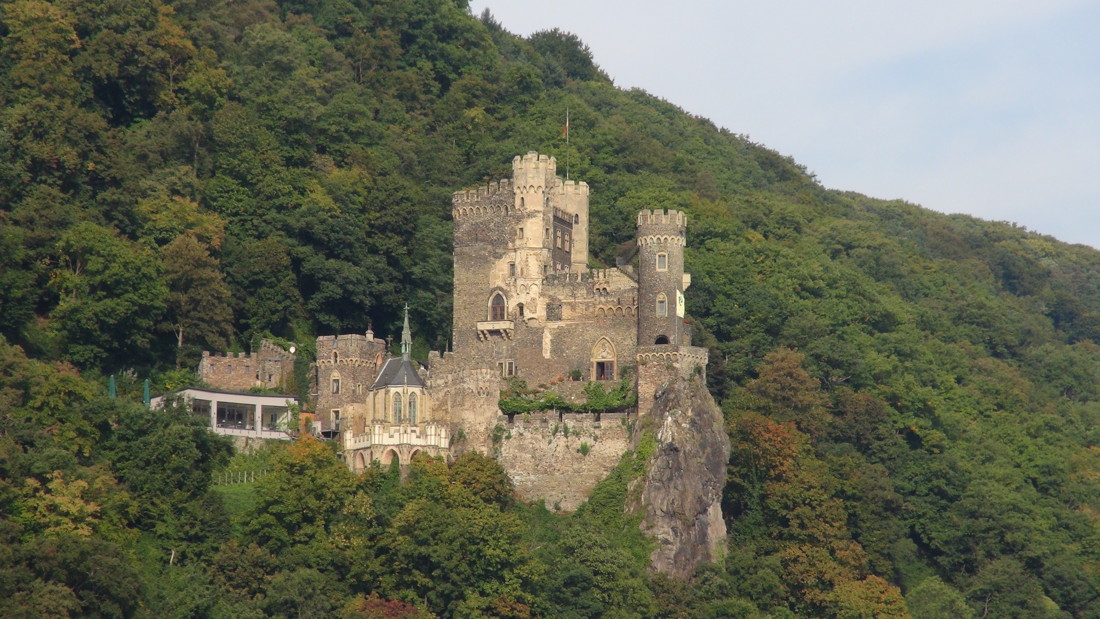 Burg Rheinstein, over 1000 years old, on the Rhine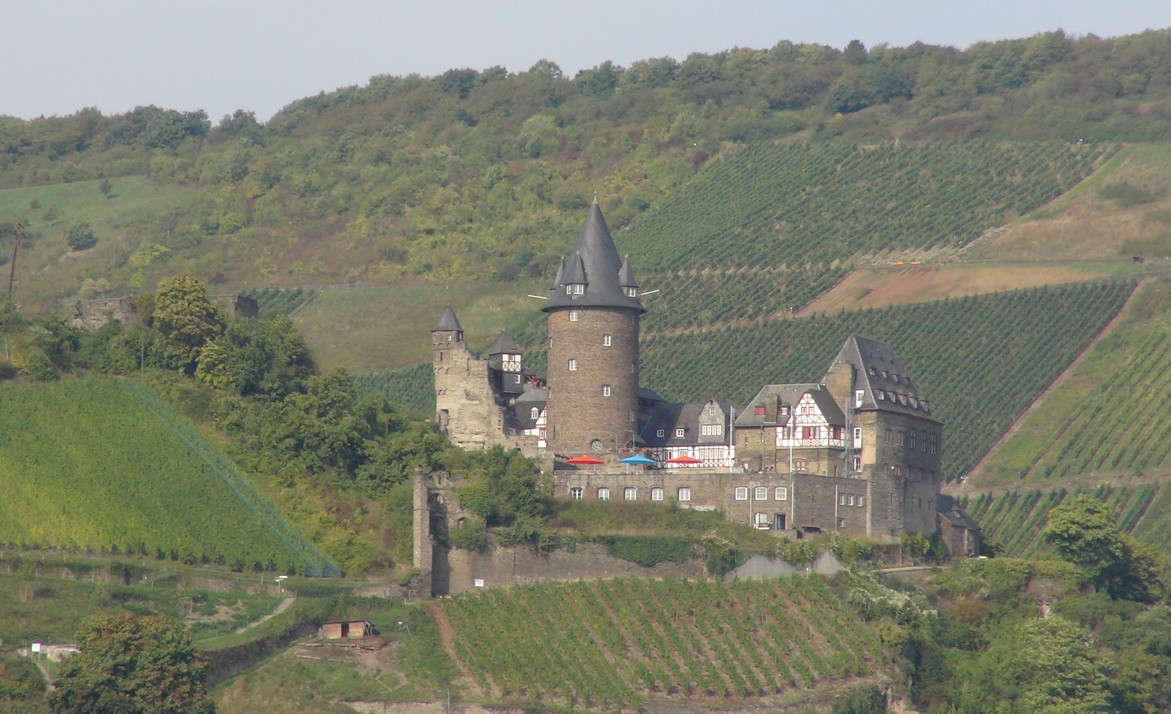 Burg Stahleck, rebuilt on site of 12th C castle, on the Rhine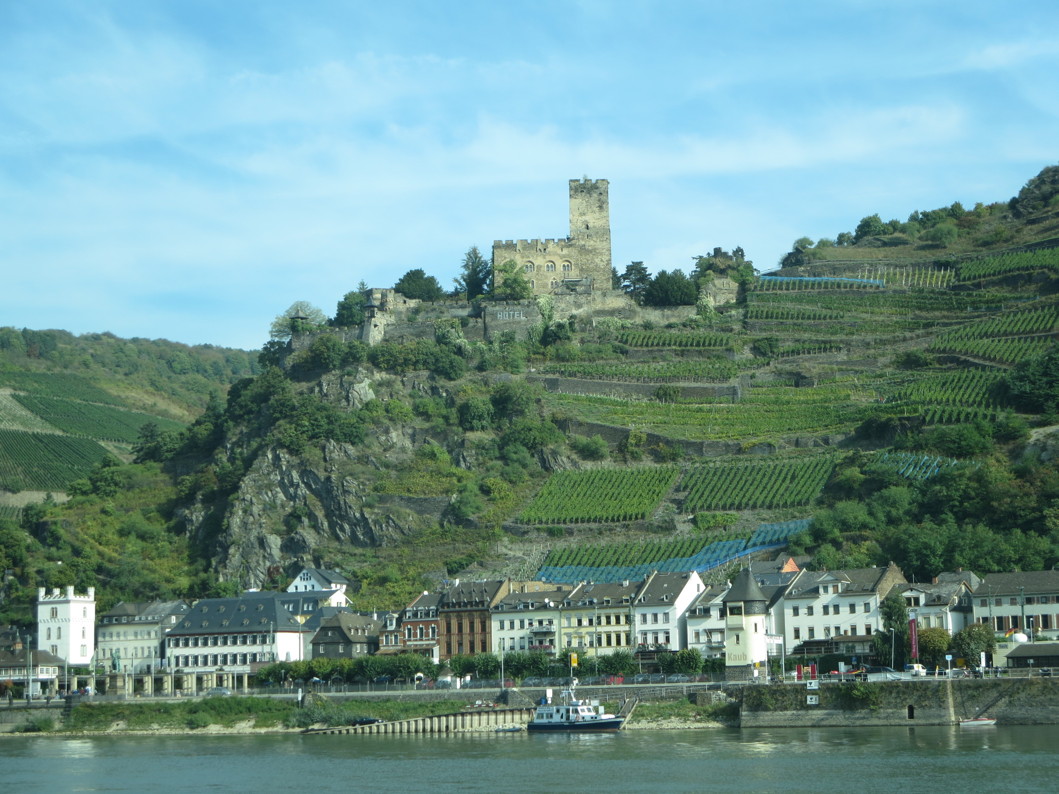 Burg Gutenfels, 13th C, vineyards, Kaub, on the Rhine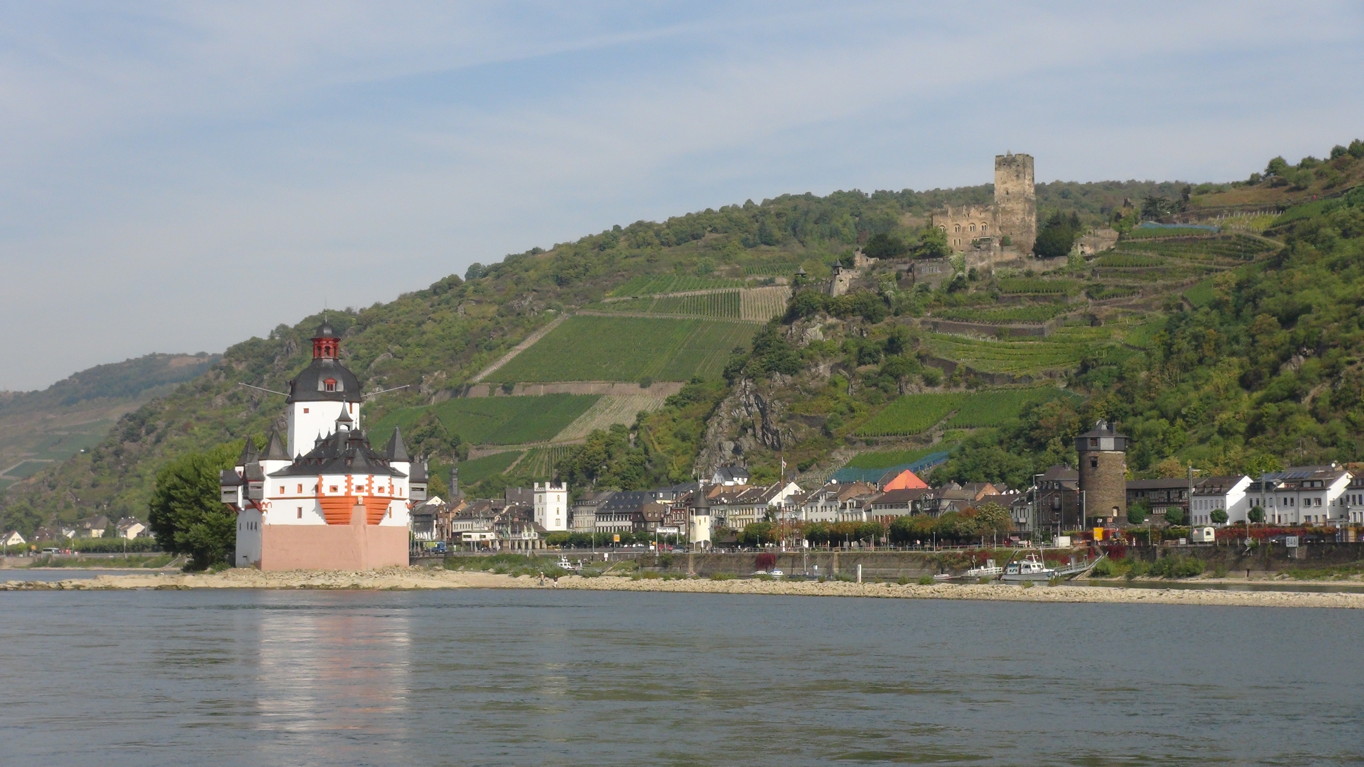 Burg Gutenfels, 13th C, vineyards, Kaub, on the Rhine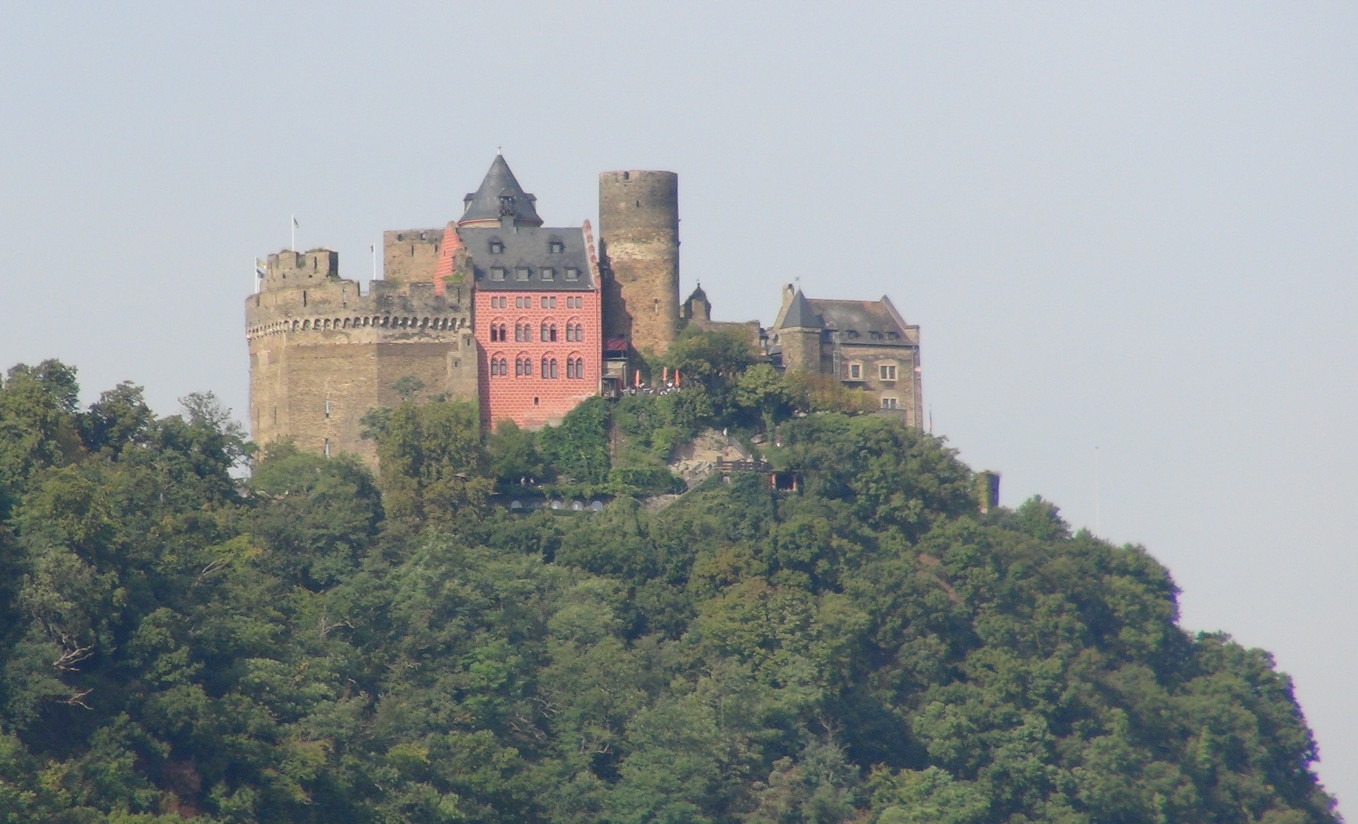 Castle Schönburg, Oberwesel, on the Rhine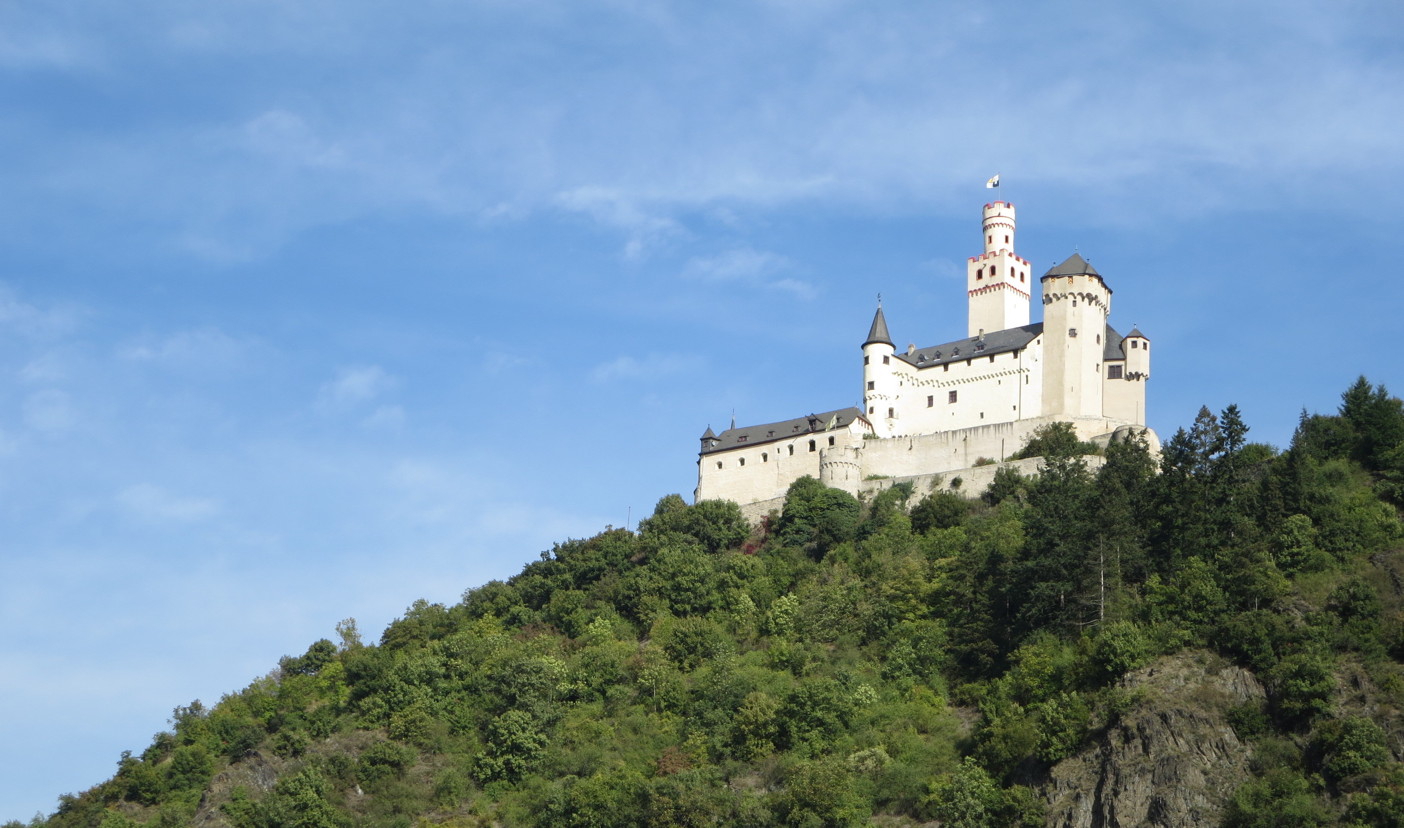 Marksburg, from 13th C, only burg along whole Rhine to have survived intact, near Braubach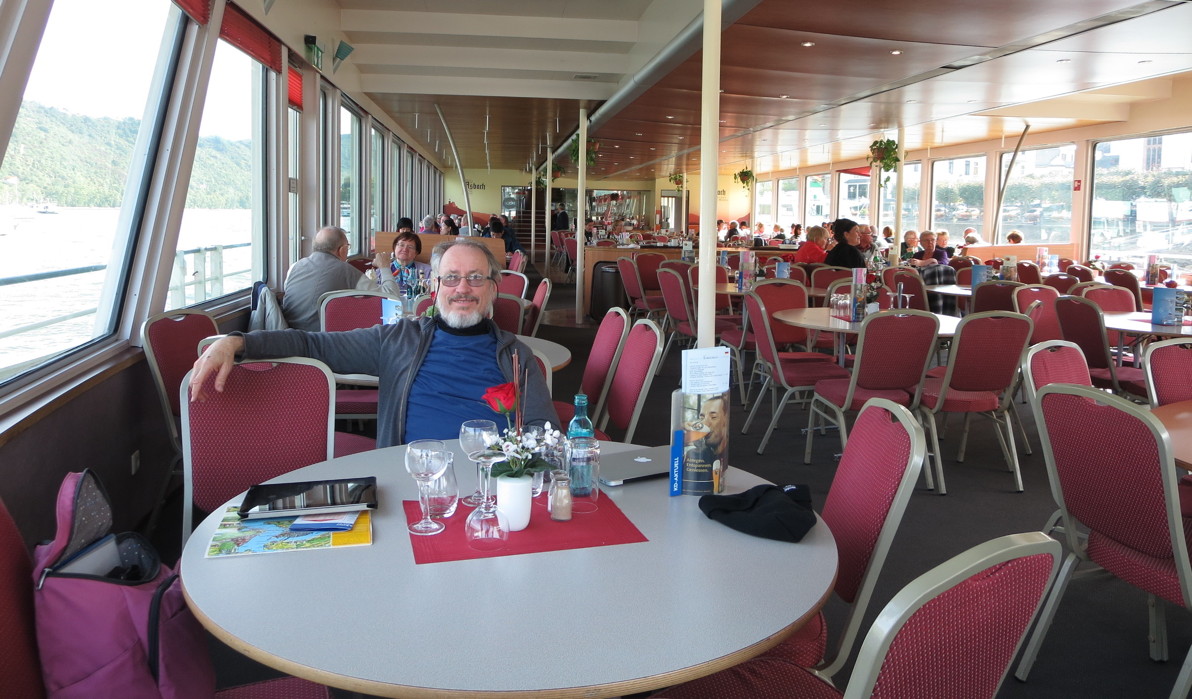 Len relaxing aboard Rhine River Ferry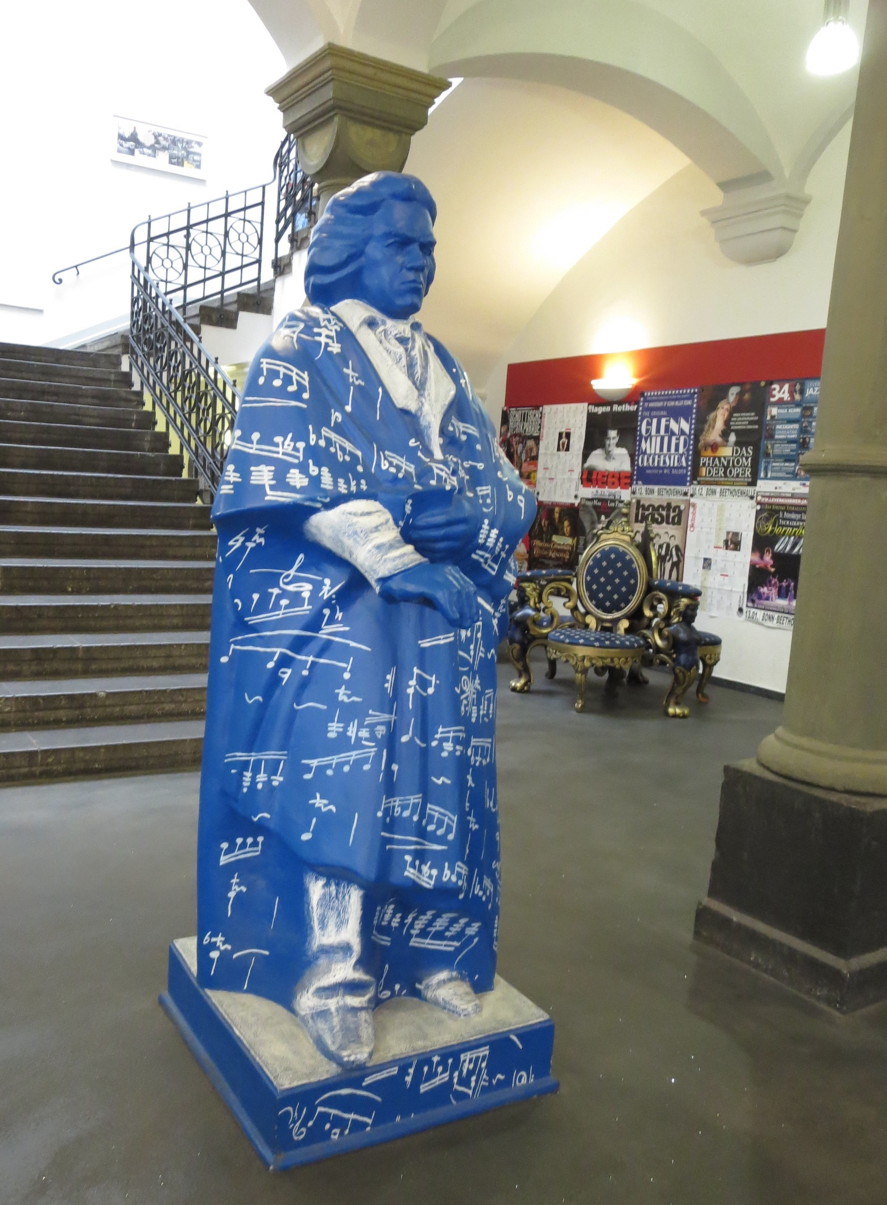 Beethoven, Tourist Office, Bonn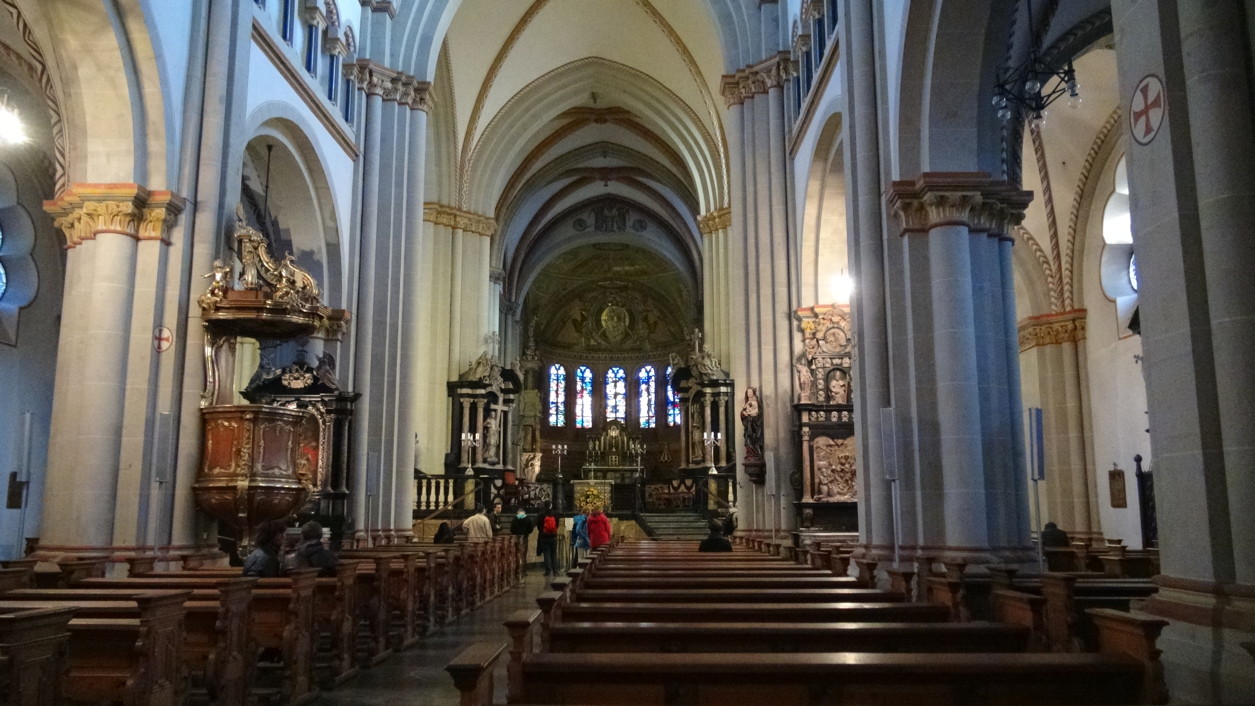 Interior of Minster, Bonn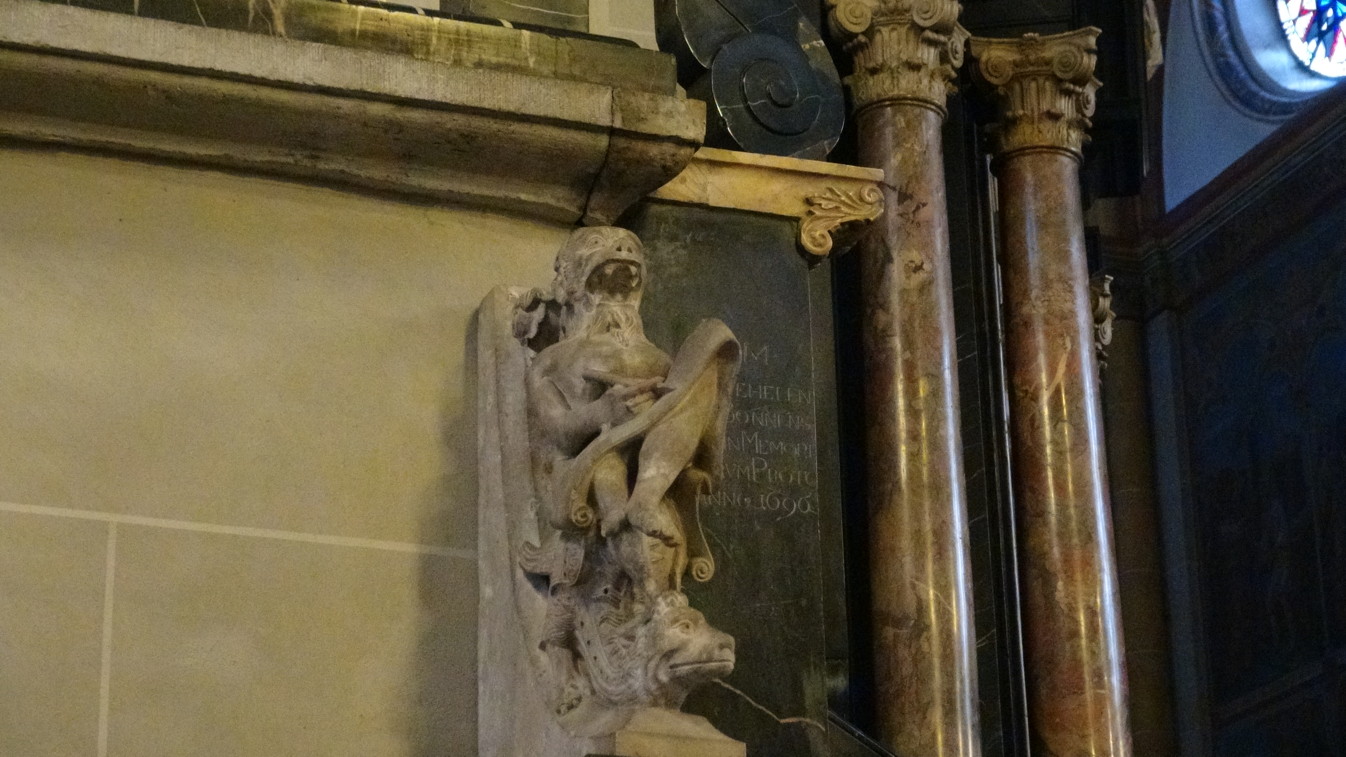 Devil statue, Minster, Bonn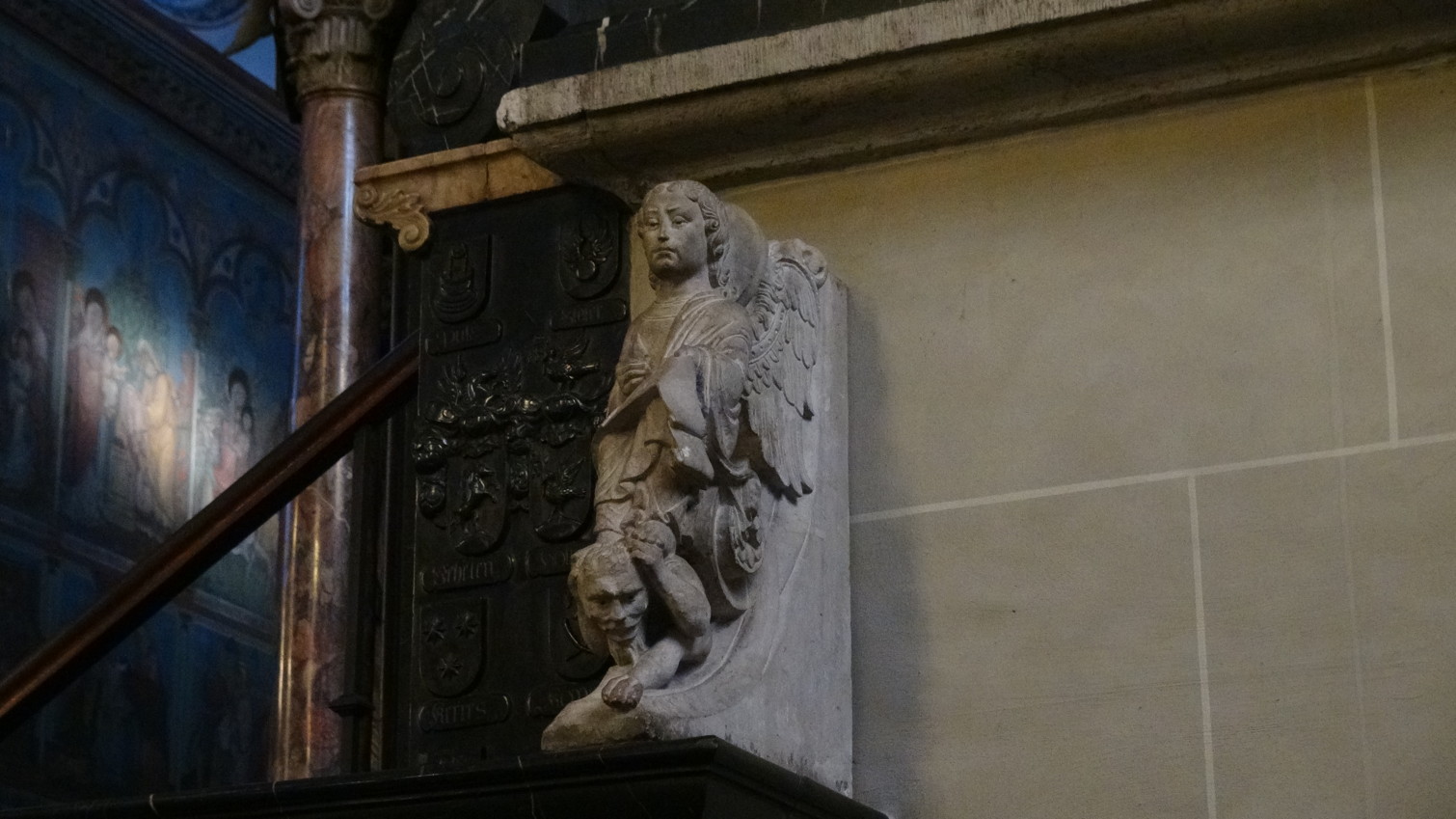 Angel statue, Minster, Bonn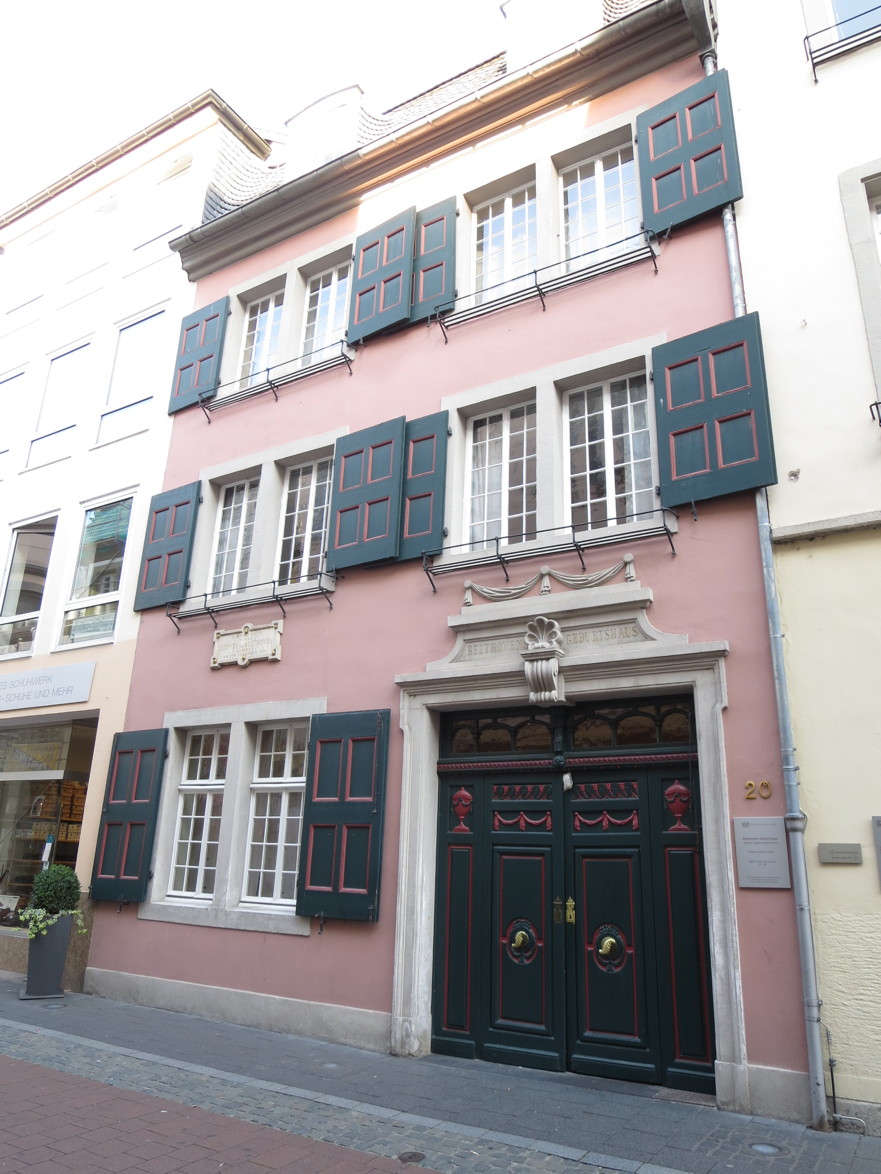 Beethoven (birth) House, Bonn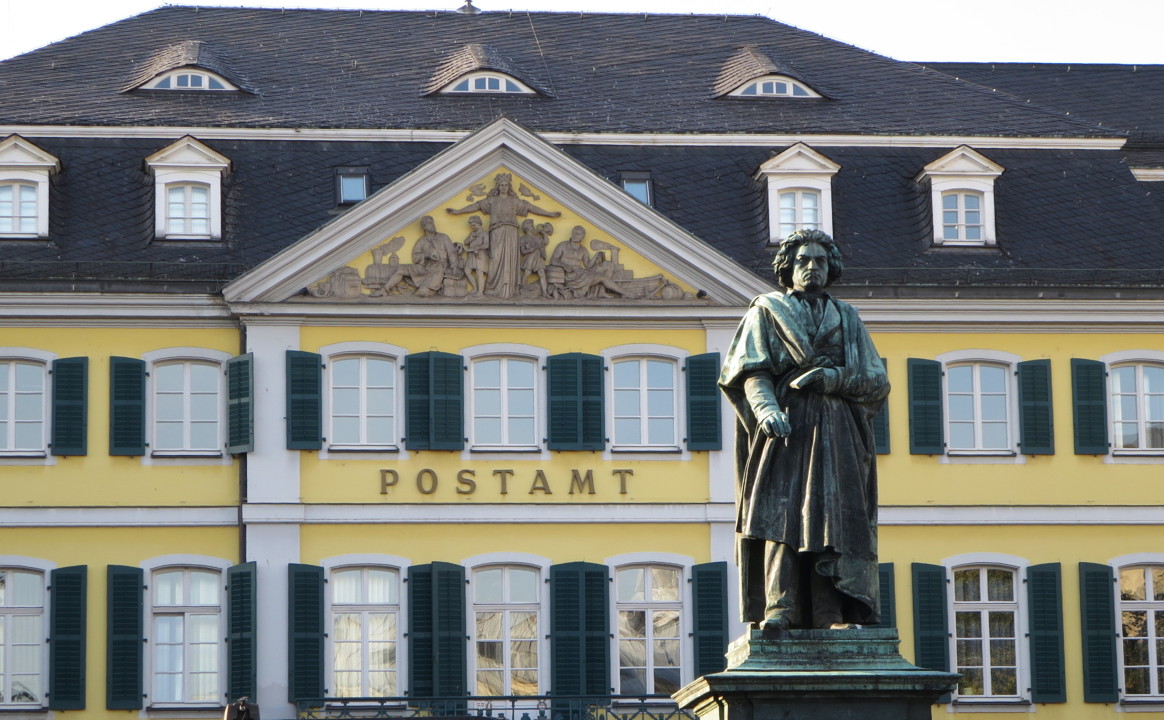 Beethoven, in Beethovenplatz, Bonn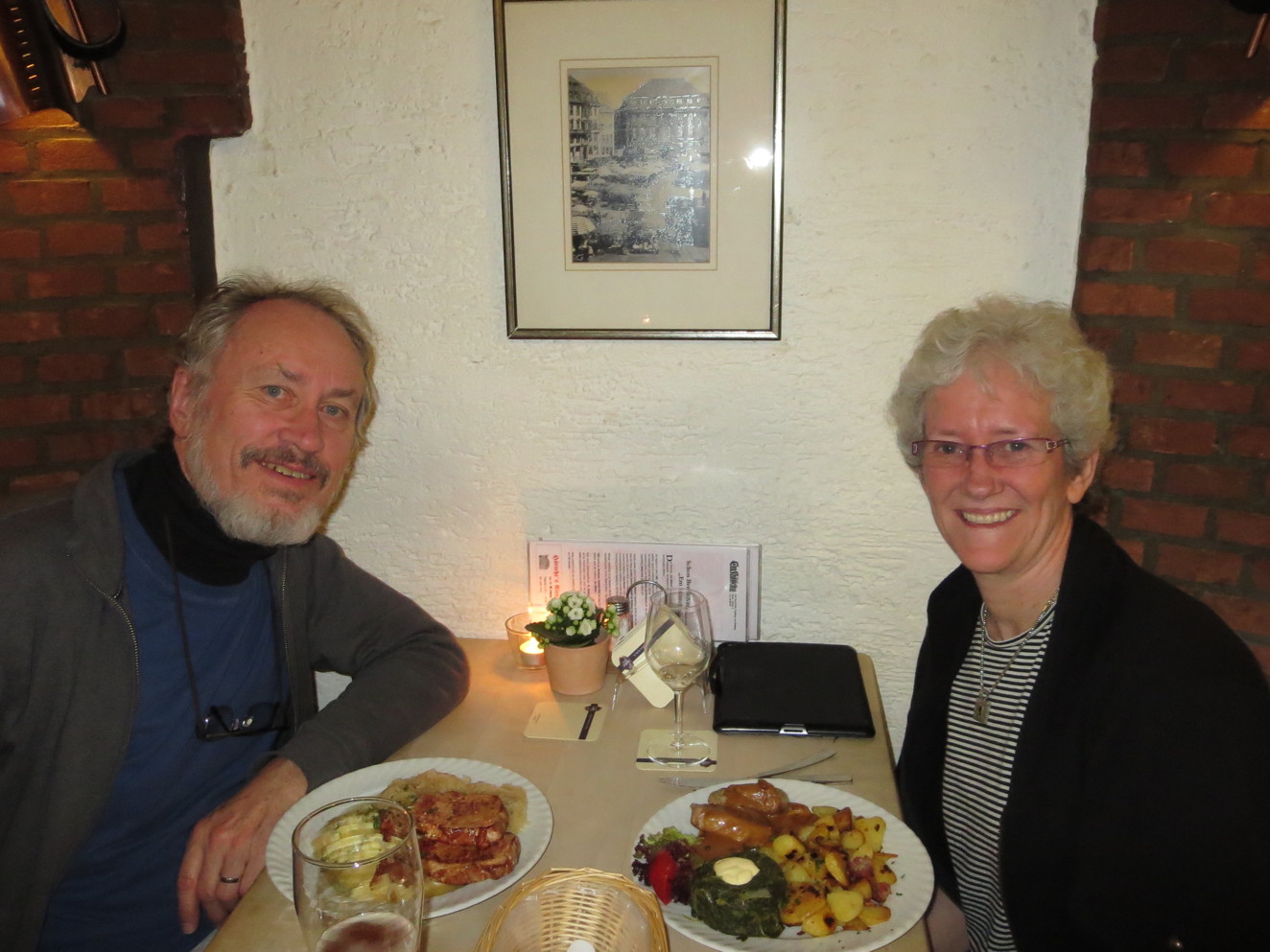 Sue and Len at Em Höttche, Bonn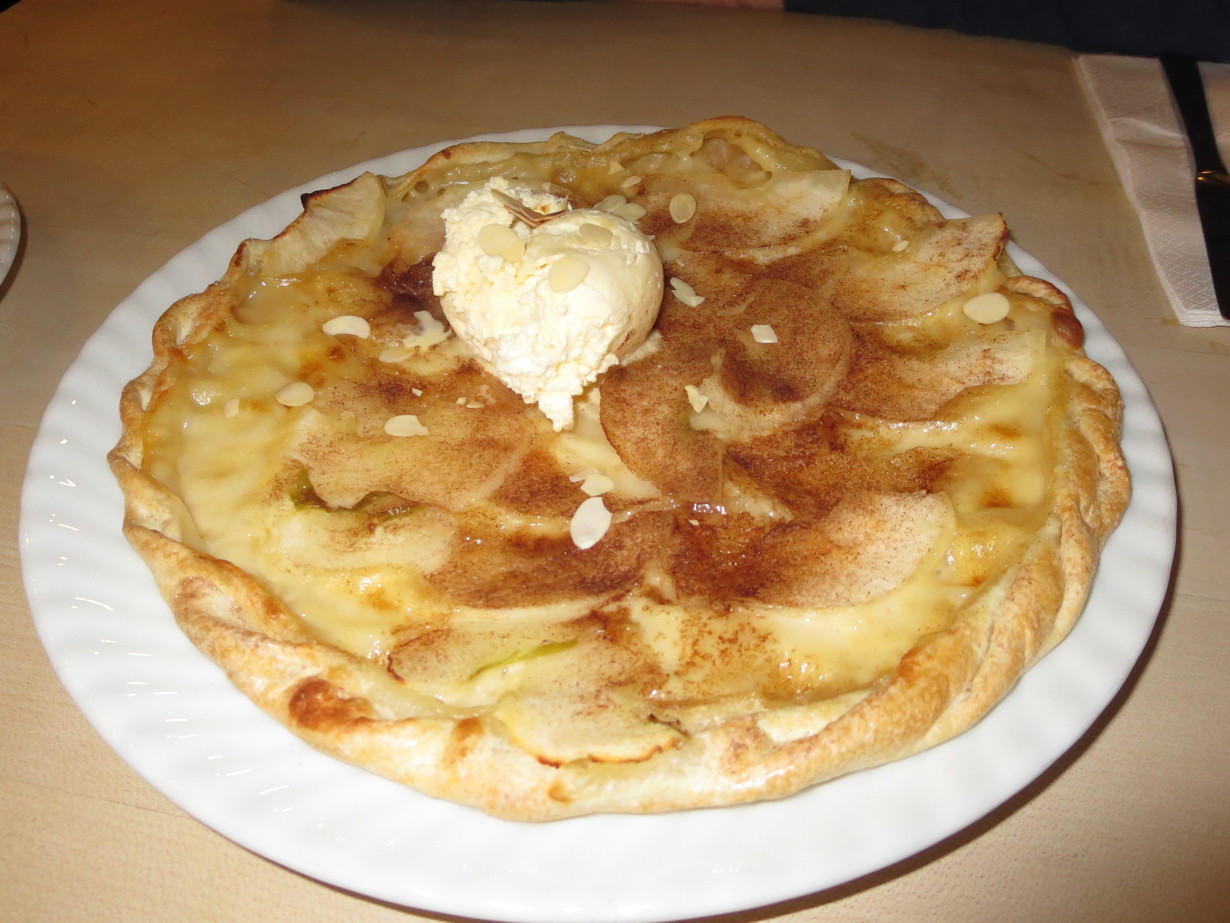 Apfelflammekuchen, Em Höttche, Bonn
… and some videos of sights along the Rhine
Castles along our Rhine River Ferry trip
Commercial traffic along the Rhine
The historic Loreley Rock along the Rhine
The village of Rhens am Rhein